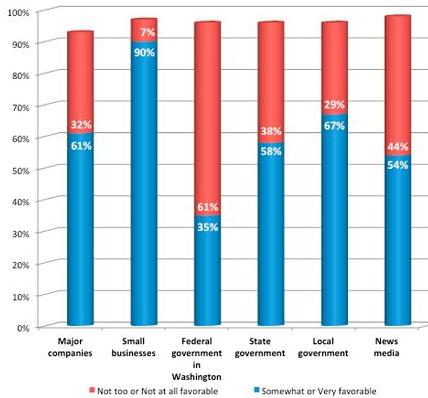 Public attitudes towards big business are on the upswing, according to the results from a new Public Affairs Council survey.
By U.S. Chamber of Commerce
Two-thirds of Americans now have a favorable view of major companies — up from 61% in 2011 — according to the new Public Affairs Pulse survey. Only 29% had unfavorable opinions.
Even more interestingly, young people have a surprisingly positive view towards big business – 71% of members of "Gen Y" (age 18-34) have a favorable opinion of business.
Asked why they gave favorable ratings to major companies, respondents mentioned the large number of people major companies employ (17%), the quality and price of their products (10%) and the role of business in driving the economy and creating wealth (9%).
The government did not fare as well. Just 41% of respondents trust that the government can solve the nation's most important problems, while 58% say they have "not too much" or no trust that the government can solve these problems.
That might have to do with the fact that the American public feels government regulation is overreaching. When asked whether corporate influence or government regulation is a bigger threat to the well-being of America's middle class, 52% believe federal regulation of business is a greater threat, and only 40% are more worried about corporate power.
In fact, the public has so little confidence in the federal government that they'd like to see major companies address society's problems. According to the poll, the public would like to see the private sector take more of a financial stake in areas that have historically been the government's responsibility, with at least six in 10 saying business should help out in areas like healthcare, education and disaster relief. Respondents were split down the middle on whether private companies should take more of the responsibility for infrastructure like mass transit and roads.
The poll, commissioned by the Public Affairs Council and conducted by Princeton Survey Research Associates International, is based on telephone interviews with 1,750 adults between June 20 and July 11, 2012.