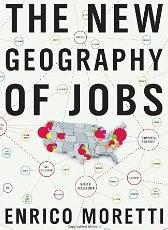 Bookends: "The New Geography of Jobs"
by
Michael Hendrix
[Excerpt] To economist Enrico Moretti, where you live matters more than ever. And it matters ultimately because of you. In his book The New Geography of Jobs, Moretti unpacks the forces that are reshaping America. Whereas the 20th century was defined by physical capital producing physical goods, the 21st century is increasingly driven by human capital and its output of innovation and knowledge. Smart people tend to cluster into globally competitive "brain hubs" that, in Moretti's eyes, will form the basis for much of America's future prosperity.
These aren't abstract notions. Moretti finds cities all across America—some small, others large—that are drawing in and equipping smart people. Better yet, the gains go beyond profits and higher salaries to job creation in a wide range of surrounding industries. Human capital acts as a magnet for opportunity.
Not every place benefits equally. Knowledge is king, and some places are poorer as a result, making education and mobility key ingredients in creating widespread prosperity. Yet America's investments in education and research are on the wane.
Cities are "human ecosystems," according to Moretti. With our brainy people and diverse cities, we should be more hopeful for America's future. This book will redefine how you view the place where you live and your role in making it prosper. Something to ponder as you sit on the beach.
Click here to more about or to order The New Geography of Jobs.