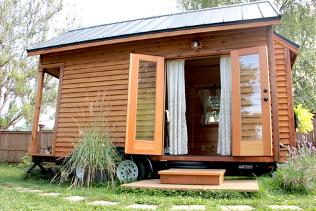 by Eric Fruits, pH.D
Oregon economist
Econ-International Blog
In Portland, folks live in a house the size of dining room and in New York, the mayor is pushing apartments no bigger than a few refrigerator boxes taped together.
OPB's Think Out Loud radio show interviews the Portland owner of a "house" that is 128 square feet and was built on a 16′ x 8′ trailer. It has a stove that uses alcohol as fuel, a free-standing electric-oil heater, and a simple plumbing set-up. The tenants share wireless internet with the land owners. They don't have a refrigerator or a shower.
New York mayor, Michael Bloomberg, apparently likes the idea. The week he announced a competition for architects to submit designs for apartments measuring just 275 to 300 square feet to address the shortage of homes suitable and affordable for the city's growing population of one- and two-person households. While the apartments would be twice the size of the Portland house-on-a-trailer, there's a good chance the New Yorkers would get fridge and a shower.
The big question: Is this just a curious new fad, or has the housing market taken such a big turn that tiny houses are the new McMansions?