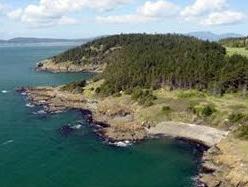 Paul Allen's $13 Million island still for sale
By Oregon Small Business Association

Millionaires buy beach homes; billionaires buy islands. But in recessions, billionaires end up selling those islands. Paul Allen, Microsoft co-founder, is selling 292-acre Allan Island, just off the coast from Anacortes, Wash., for only $13.5 million.
The island has been on the market for two years, and there is no sign of a buyer yet. The price has already come down: when Allen listed the property in 2005, he wanted $25m for it.
But despite his attempt to get rid of the island, Allen has no intention of selling the Portland Trail Blazers. He has not gotten any offers to buy the team, he says, and has not tried to find any buyers. Allan Island (which is named for a Navy hero, not its billionaire owner), however, is far from unique. Craig and Susan McCaw are trying to sell James Island in British Columbia for $75m.
For more, see here