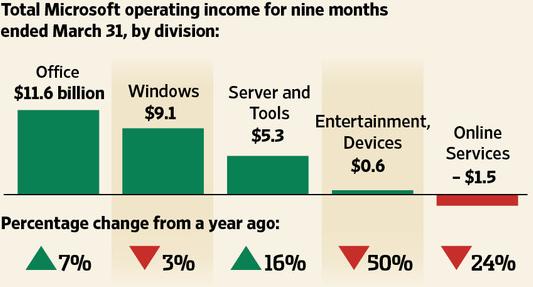 By Oregon Small Business Association
Microsoft is laying off employees in its marketing division. About 25,000 of the company's 90,000 full-time employees work in sales and marketing, and CEO Steve Ballmer apparently doesn't think that the software giant's sales justify the nearly $14 billion it spent on sales and marketing in fiscal 2011. Indeed, over the last nine months, the Online Services division of Microsoft (the division in which sales and marketing takes place) lost $1.45 billion and earned $2.1 billion. However, details of just how many jobs were cut remain sketchy. Some workers were moved from the more technical side of marketing back into engineering, and overlapping positions were eliminated. The latest reports indicate that around 200 people were let go.
Furthermore, Microsoft is crafting a $6.2 billion accounting charge in its Internet division—an indication that its online services, including MSN and Bing, are not performing as well as the company had hoped. Windows 8 and Microsoft's Surface tablet are expected to come out sometime in October and help revive the company's fortunes.
Even with the rare layoffs, Microsfot retains strong sales in several core functions (see chart).