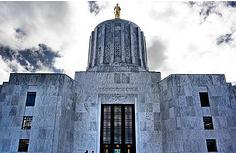 By Patrick Sheehan
Oregon State Representative
Multnomah County has some funny ideas about what constitutes economic development. Our state constitution allocates lottery profits to fund public education (59 percent), economic development (25 percent), parks and salmon habitat (15 percent), and problem gambling treatment (1 percent). In the 2011 legislative session, Rep. Matt Wand, R-Troutdale, and I sponsored House Bill 3188, which forced counties to report where they spend these economic development dollars.
The first report was released this spring. Most counties reported on main-street programs, agricultural investment plans, small-business lending and infrastructure improvements. Multnomah County — with both the largest allocation, at $3.5 million in economic development, and the shortest report in the state — simply stated: "Social service education and job training programs, family economic security programs; costs directly related to construction of court facilities."
When I pressed Multnomah County Economic Development Director John Tydlaska for details, he cited a bug on the reporting website that only allowed a short answer. He later responded to me with a detailed report.
What I saw blew me away. The county reported spending constitutionally mandated economic development dollars on homeless youth services, debt service, GEDs for prison parolees, and tax preparation assistance for low-income families.
I want to be clear — these are worthwhile programs. I've personally volunteered at New Avenues for Youth, which receives a portion of the $726,000 the county spends on homeless services from this fund. While these programs may be worthwhile, they are not economic development.
The justification for spending this money on homeless youth shelters was cited as, "Provides intervention for 1,000 homeless youth visibility, which has a direct impact on citizen perception of safety. Improving the safety of pedestrians and shoppers in the retail core are explicitly identified implementation actions under two of the four strategies in the 2009 Portland Downtown Retail Strategy."
That justification seems like "seven degrees of separation" from economic development.
The next largest investment was $703,000 for the badly needed East County Courthouse. The allocation is going toward long-term debt service, not the immediate and incremental economic development needs of the community.
At the Londer Learning Center, which provides English language and GED education to adults getting out of jail or prison or who are in recovery from addiction, $682,000 is being spent. This is a good program, but again, not economic development.
Perhaps the biggest stretch is the $169,000 lottery allocation for Family Economic Security; 60 percent of this is spent on contracts with CASH Oregon, which primarily provides free tax preparation services to low-income families.
The theme here is that Multnomah County's appetite for social programs is greater than its resources. The previous lack of transparency has allowed it to treat a constitutionally mandated fund as slush to fund pet projects and fill in budget gaps.
So what's the harm? Programs with direct and immediate economic benefit for their communities are struggling. The Portland Development Commission has six different Neighborhood Prosperity Initiatives hungry for these dollars. Areas of Parkrose, Division and Rosewood are looking to transform into vibrant business districts with sidewalks, streetlights and common architecture to give the community visual continuity as a destination for commerce. That's economic development — not homeless youth services or tax preparation assistance for low-income families.
As a Legislature we need to continue to work to increase transparency. The people voted for the state lottery to do very specific things — and this isn't it.