Setting the stage for Oregon's landmark education reforms
By Oregon Prosperity Project,
It's easy to get lost in the political jargon of education reform or be dismissive of seemingly ubiquitous "reform" efforts that never seem to affect much. But we think something important is happening here in Oregon. This week we're going to talk about some of Oregon's key educational challenges, particularly in higher education…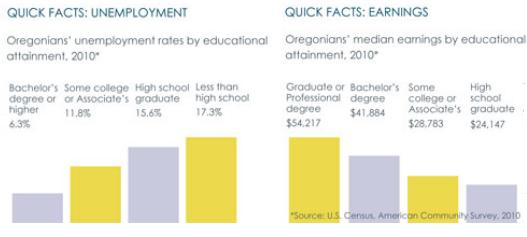 The reality is that a highly educated population is fundamental to economic growth. The connection between education and Oregonians' prosperity is direct and powerful.
The facts are indisputable.
Educational attainment is directly related to the ability to find employment, earning a good living, being capable of supporting a family, paying taxes, contributing to the community, and participating in the civic life of our state.
The Education Gap.
Oregonians are facing the fact that for the first time in history, our younger generations actually will be less educated than their elders. The United States, which for generations led the world in college degree completion, now ranks 16th in the world in completion rates for 25- to 34-year-olds.
In 1973, an associate degree, a bachelor's degree, or postgraduate degree was an employment requirement for only about one quarter of Americans. But by 2007, 59% of employed Americans needed a postsecondary credential or degree – a figure that is expected to approach 70% of all employed Americans by 2020.
Unfortunately, recent analyses indicate that only 36% of Oregon adults currently hold such a certificate or degree, translating to an education and skills gap of over 33%.
Too few of our students are getting through college.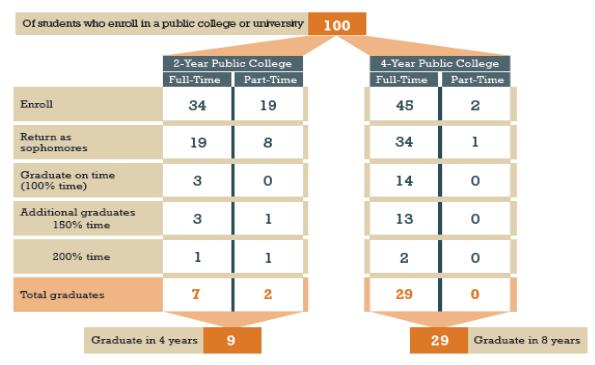 Only 38 in 100 of our college students are graduating from college. Only 17 in 100 are graduating on time. When student success rates are so low, post-secondary employment preparation has little chance of meeting employer needs. These conditions have a particularly devastating impact on the ability of low-income students to get a foothold on achieving economic mobility.
Too much remediation needed for incoming college freshman.


Of particular interest here is that over half of all freshman entering our community colleges require remediation. Of these students, only 13.8% graduate.
Decreased Investment in Oregon's Higher Education system.
Unfortunately, the weak economy has eroded our ability to fund higher education. No state institution has suffered more than our university system.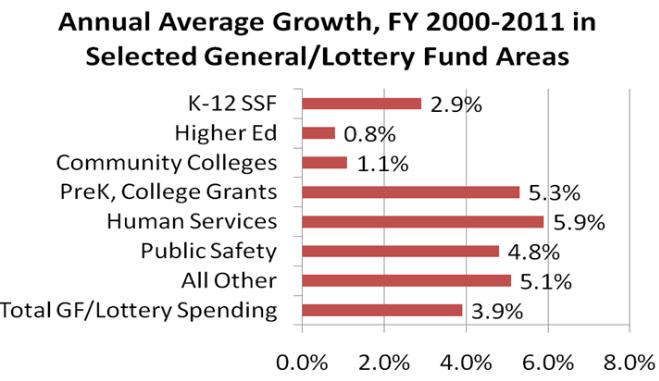 These challenges are not insurmountable.
Recognizing these trends, Governor John Kitzhaber and the Oregon Legislature have made substantial changes to the way education is delivered in Oregon in the past year.
We think these reforms will change the face of Oregon's education system for years to come, and we're excited about the possibilities.
We will talk about these reform efforts more in-depth next week.