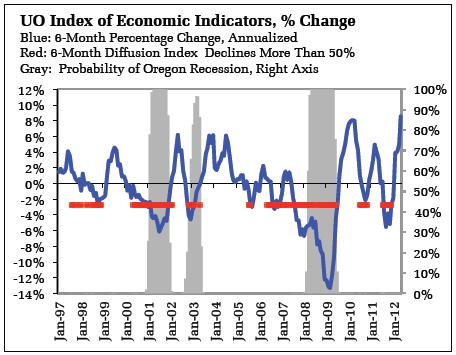 Tim Duy
Oregon Economic Forum
University of  Oregon
Economic indicators gain in May, suggesting accelerating economic activity in Oregon. Highlights of the report include:
– The Oregon Measure of Economic Activity rose to 0.20 from an upwardly revised -0.05 in April ("zero" for this measure indicates the average growth rate over the 1990-present period). The three-month moving average rose to -0.03.
– Both the manufacturing and services sectors made net positive contributions the measure, while the household and construction sectors remained a drag. Employment figures weighed down the construction sector, reversing a positive contribution the previous month and illustrating the potential volatility of the employment data. Overall, Oregon is growing at or somewhat above its average growth rate of the last two decades.
– The University of Oregon Index of Economic Indicators™ gained 1.0 percent in May, with only one underlying component, the interest rate spread, deteriorating during the month. The interest rate spread narrowed as financial market participants grew concerned about the pace of economic growth, primarily due to the ongoing European debt crisis but also the evolving slowdown in China.
– Initial unemployment claims continued to decline which, coupled with a gain in employment services (mostly temporary hiring) payrolls, signals improved labor market conditions. Residential building permits gained, rising to their highest level since November 2008, consistent with a recovery in the housing sector that will help support growth.
– The UO Index indicates continued growth in Oregon, which should also be supported by ongoing US growth, albeit the national recovery remains muted. Still, weaker overseas economies might pass-through to the US in the form of lower than expected growth. Moreover, concerns remain about the path of fiscal policy, which may turn considerably tighter in 2013. Ongoing monitoring of these situations is advised.