Severe Lack of Available Land Will Restrict Oregon Job Creation.
By Oregon Prosperity Project

The Portland Metro region has only one industrial site of 50 acres or larger that would be ready for development in 180 days and only five sites of 25 acres or larger that would be ready in 180 days.
That's it.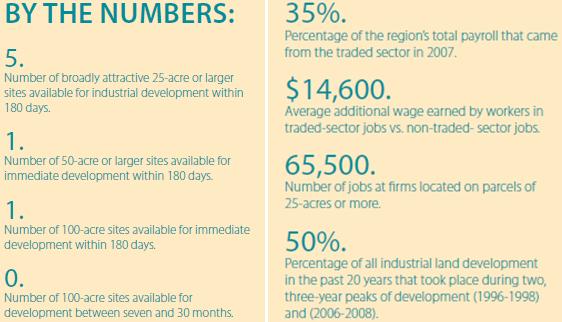 Why does this matter? Because according to the new study conducted by the Portland Business Alliance, the Port of Portland, and Business Oregon, currently over 65, 000 jobs in the Portland region are the result of 60 business operations on industrial land of 25 acres or more. What's more, these jobs pay an annual average income of $14,600 more than the average non-traded sector job.
The study went on to identify another 11 sites that were not yet ready for development. These sites had multiple challenges including ownership aggregation, infrastructure issues such as water, sewer and transportation services, and brownfields, wetland and floodplain issues.
The job creation benefits of just bringing these sites on line are staggering. Job creation benefits ranged from a low of 382 jobs to a high of nearly 3,000. Annual payrolls ranged from a low of $17 million to a high of $400 million at another.
How much would those jobs and payroll mean to our state's economy right now?
When the next boom comes, if we don't address our land supply issue, we won't be ready. Oregon will miss out on the high-paying manufacturing jobs that are available if we just had the land to accommodate them.
Having companies that want to come to Oregon, but not having the available land, would be an entirely avoidable self-inflicted economic wound to our state.
But policy questions abound.
For instance, one key finding of the report is that while the local government and the private sector carry the financial and risk burden of making sites development ready, it is the state, through payroll and income taxes, that is the biggest winner if development occurs. This raises the question of what role the State of Oregon should have in working with local communities and the private sector in moving sites to development readiness.
We expect that there will be an increased focus on the availability of land for economic development in the coming year as the business community begs for action and the 2013 legislature is only six months away.