by Amy Vander Vliet
Oregon Employment Department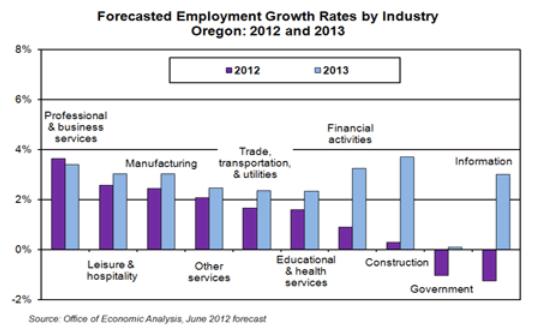 Economic conditions continue to improve; Oregon has seen recent job gains across most major industries. Yet the pace of growth remains sluggish, and according to the latest report from the state Office of Economic Analysis (OEA), that's not likely to change anytime soon.
OEA expects job growth to tick up in the third and fourth quarter of this year but nonetheless remain subdued. Overall, 2012 will end up 1.4 percent over 2011 (22,500 jobs). Next year, the momentum is expected to increase, with growth projected at 2.4 percent, or 39,100 jobs.
The public sector will cut jobs (‑3,100) once again this year as state and local agencies struggle to balance their budgets alongside cutbacks in federal spending. Growth should resume next year, but at a lethargic pace of just 0.1 percent, or 300 jobs.
Countering losses in government, the private sector will add 25,600 jobs when the books close on 2012 and 38,800 jobs in 2013.
Solid growth in professional and business services last year will continue this year and next. This sector includes engineering, architecture, legal, and accounting firms, as well as call centers and employment agencies. It was among the first broad sectors of the economy to turn around following the recession, powered predominantly by a surge in employers' use of temporary help. Growth in most other components kicked in a bit later. This year should see the creation of nearly 7,000 jobs (3.6%), with a similar outlook for 2013.
Leisure and hospitality will be the second-fastest growing industry (2.6%) with growth accelerating in 2013 (3.0%). OEA expects that after cutting back on spending during and in the aftermath of the recession, consumers will begin opening their wallets a little wider and spend more on vacations, recreation, and entertainment.
Manufacturing has been, and will continue to be, a bright spot in Oregon. It outperformed the overall economy in 2011 and is expected to do so again this year and next. OEA is particularly bullish on computer and electronic equipment (i.e. high tech), wood products, and transportation equipment manufacturing. Although Siltronic recently announced layoffs, Intel's new plant is scheduled to open in 2013. The wood products sector had a long and brutal recession but appears to have stabilized and stands to benefit from an improving housing market. Overall, Oregon's manufacturing sector is expected to add between 4,000 and 5,000 jobs in each of the next two years.
After falling off a cliff during the recession, construction will eke out a small gain this year. It will shift into higher gear in 2013 to become the state's fastest-growing broad industry (3.7%). Job creation will likely be powered more by multi-family, commercial, and remodeling projects than single-family construction as OEA doesn't foresee significant improvements in the housing market until late 2013 or 2014.
Oregon job growth will once again outpace the nation beginning in 2013. OEA believes the current U.S. expansion will be different than past ones, led by business spending and exports instead of the consumer. Oregon has an advantage in both of these areas; many of our businesses make products other businesses buy (e.g. machinery, metals, computer chips), and exports are a relatively large part of our economy. Oregon ranked second nationwide in exports' share of state Gross Domestic Product, according to a recent report by the Brookings Institution.
Barring unforeseen shocks to the economy, Oregon is expected to regain the nearly 150,000 jobs lost during the Great Recession by the end of 2014 – five years after hitting bottom. Meanwhile the unemployment rate, which tends to be one of the last indicators to improve as the economy recovers, will slowly decline from its current 8.5 percent rate to 7.6 percent in the fourth quarter of 2014.
The OEA's complete report is available at: www.oea.das.state.or.us.