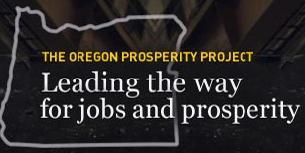 Court ruling undermines a classic Oregon success story
By Oregon Prosperity Project

Oregon's workers' compensation system is a national model. It's a hallmark Oregon success story that has proven to be one of our state's great competitive advantages leading to business investment and job creation. Every employer is legally required to purchase workers' compensation insurance coverage to pay for medical care and lost wages in the event an employee is injured on the job.
As of today, 1.62 million Oregonians are covered by their employer.
Since 1990, Oregon has gone from the 8th most expensive state in the US to the 10th most affordable. Premium costs to Oregon employers have dropped by 60% in that same time, saving Oregon employers more than $18 billion.
What was once a major drag on our state's economy has now become one of our biggest competitive assets.
But this isn't to say that workers' compensation coverage isn't costly. It's a significant hidden cost that most of us don't see. Oregon businesses will pay about $800 million this year.
In return for requiring employers to purchase this coverage, Oregon law shields employers from lawsuits stemming from workplace injuries.
But a recent court opinion threatens to unravel the core of this success.
The Oregon Appeals Court ruled on February 29th, in the case of Cortez v. Nacco Materials Handling Group, that Oregon's workers compensation system does not shield the owners or members of limited liability companies (LLCs) from lawsuits stemming from workplace injuries.
The effect of the ruling is that these job creators face the untenable prospect of having to both pay workers' compensation premiums and face the prospect of lawsuits. There are over 100,000 LLCs in Oregon, but it is unknown how many LLCs are actual employers.
Up until this court ruling, Oregon's workers' compensation system was specifically designed to avoid this outcome.
It is unclear whether the logic of the court's ruling also applies to partnerships or even sole proprietorships. It will undoubtedly be tested in Oregon's courts.
Our position is that Oregon has a handful of competitive advantages that lead directly to job creation in our state. Our successful workers' compensation system is one of those advantages.
Oregon employers have now grown accustomed to a level of certainty not seen in other states. Oregon's rates are 17 percent less than Washington's, 37 percent lower than California, 15 percent lower than Idaho, and 21 percent less than Nevada's workers' comp rates.
All of this while benefits to injured workers have dramatically improved. Workplace injury rates have been cut by more than half. Workplace fatality rates are down 80 percent.
It's also living testament to the fact that business and labor groups, and Republicans and Democrats in the legislature, can come together and fashion a solution that works for everyone as they did in 1990 when confronted with an out-of-control system that cost too much for business and provided too few benefits for employees.
It's a 22-year success story our state can be proud of, and one heck of an incentive for companies to hire in Oregon as opposed to other states.
The Appeals Court gouged a hole in this incentive, though.
Its ruling provides a level of uncertainty we have not seen in several years, and if left unchecked by the Oregon legislature, will begin to undermine one of Oregon's core competitive advantages.
After all, if Oregon business owners are required to pay workers' compensation premiums and face the prospect of personal liability stemming from workplace accidents, then the Oregon advantage in workers' comp is no advantage at all.
Jobs will be lost. Investments in hiring Oregon workers will not be made.
This will be a top priority of the Oregon Prosperity Project for the 2013 Oregon Legislature.