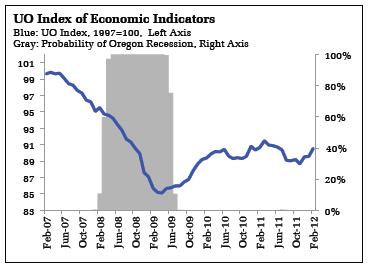 Tim Duy
Oregon Economic Forum
University of Oregon
Economic indicators were mixed in February 2012. The Oregon Measure of Economic Activity fell sharply from -0.07 in January 2012 (revised down from 0.06) to -1.32, where zero indicates the average growth established over the 1990–2011 period. The three-month moving average also fell slightly to -0.62. Only the manufacturing sector made a net positive contribution to the measure, while the construction, household, and service sectors remain a drag.
Underlying employment data was a significant drag on the measure, a consequence of the surprisingly weak nonfarm payroll numbers. Upward revisions, however, may occur in the future, as employment data appears too weak relative to real personal income growth, which was 3.1 percent in the final quarter of 2011, slightly above the long-run average.
In contrast, the University of Oregon Index of Economic Indicators™ rose 1.1 percent during the month. Underlying indicators were generally stronger. Initial unemployment claims retreated as expected from a spike in January. Core-manufacturing orders partially reversed a decline in the previous month. The weight distance tax, a measure of trucking activity, rebounded to its highest level since last October. Consumer sentiment continued to rebound, while residential building permits held steady.
Compared to six months ago, the UO Index rose 3.3 percent, a rate that suggests continued growth in Oregon in 2012. Likewise, the flow of national data is generally consistent with steady growth, although the pace remains below that necessary to quickly return economic activity to its pre-recession trend. The risk of financial disruption from the European crisis appears to be relatively low at the moment, whereas questions about the impact of higher oil prices remain.