By Oregon Employment Department,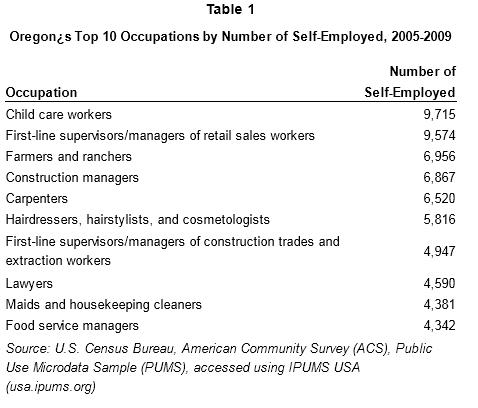 There are numerous reasons why someone may choose self-employment: having the freedom to make your own decisions; gaining more control over your career; taking advantage of a growing market; or having the opportunity to do something you love. Whatever the reason, it's clear that a number of Oregonians enjoy being their own boss. The U.S. Census Bureau's American Community Survey (ACS) offers a glimpse into the world of Oregon's entrepreneurs, allowing researchers to question who they are, what work they are doing, where they reside, and when they were self-employed.
Things to Know About the Data
Here in Oregon, self-employment data are collected from a representative sample of about 120,000 households over one year, or an average of data collected over several years. Using estimates from the 2005-2009 ACS we can take a peek at the distribution of self-employment across occupations, of which about 400 are represented.
Since this information is based on how a given respondent chooses to answer, it's important to be aware that there are limitations to the data. One problem is how respondents identify themselves. Most entrepreneurs probably think they are chief executives, which is technically true, but unfortunately not indicative of the specific type of work they are doing.
Another issue is independent contractors, who consider themselves self-employed even when they are actually an employee of another company. This often happens with services performed on a part-time, temporary, or probationary basis. Another matter is the stage of business an entrepreneur is in, as well as how much (if any) income is being made. Those in the beginning phases of business planning or those that haven't made a profit may not yet consider themselves self-employed.
Construction and Personal Service Occupations Top the List
According to the ACS, between 2005 and 2009 one in every eight employed Oregonians was self-employed. About one-third had their own incorporated business, while the rest had an unincorporated business.
All told, there were approximately 230,000 Oregonians self-employed over that five-year period. Many of the occupations with the highest number of self-employed were in management and personal service, as shown in Table 1. Self-employed child care workers top the list, many of which are family child care providers that operate in their homes. The advantage of part-time and flexible hours may be what attracts so many to this business. The same is likely true of maids and housekeeping cleaners. Another theme appears to be construction. Self-employment among construction managers, carpenters, and first-line supervisors of construction and extraction workers combined totaled 8.1 percent of Oregon's self-employed.
This probably reflects the build-up of the housing bubble, and the seemingly plentiful construction opportunities available between 2005 and 2009. Not surprisingly, real estate brokers and agents also made up a fair share: together, these occupations had 8,345 self-employed, or 3.7 percent of all self-employed over that period.
Unpaid family workers, or those working for a relative's business without pay, can work in any business or occupation. Historically, many worked in agriculture, but there were likely a number of first-line sales and food service managers that worked in retail stores or restaurants that fell into this category.
On the opposite end of the spectrum, which occupations had the lowest number of self-employed? Most were in health care support and manufacturing occupations – such as dental hygienists and machinists – as well as other jobs that are rarely performed outside of an existing organization, like ambulance drivers and refuse and recyclable material collectors.
Looking for more information? The full list of self-employed by occupations is available from the author upon request.