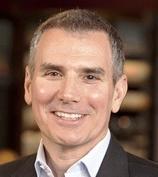 Starbucks executive Arthur Rubinfeld to give Bauccio Lecture at 4:15 p.m. Thursday, April 12 in Buckley Center Auditorium
By University of Portland

Arthur Rubinfeld, Starbucks Coffee Company's president for global development, will give the Bauccio Lecture at 4:15 p.m. Thursday, April 12 in Buckley Center Auditorium on the University of Portland campus, 5000 N. Willamette Blvd. The lecture is free and open to the public.
Rubinfeld is well-known for his leading-edge, visionary work in the areas of retail design and architecture. He initially joined the firm in 1992 and spent ten years helping the company expand from 100 to 4,000 store locations worldwide. He also played a major role in creating the customer experience that defines the Starbucks brand. He returned to Starbucks in 2008 to oversee the global and strategic site selection, design and creative concepts for Starbucks stores.
Rubinfeld earned his bachelor of environmental design and master of architecture degrees from the University of Colorado and then worked as an architect in New York and California. During this period, he was responsible for the construction of The New York Palace. The 55-story hotel tower on Madison Avenue is recognized for its incorporation of Villard Houses (on the National Historic Register), which were redesigned to be part of the hotel's grand entry, restaurants and meeting room complex.
The Bauccio Lecture in Entrepreneurship was established with a gift from Fedele Bauccio '64, '66 MBA and his wife, Linda. The gift enables the University to stage a series of lectures with visiting entrepreneurs.
Bauccio, CEO and co-founder of Bon Appétit Management Company, an onsite custom restaurant company with more than 400 cafes in colleges and businesses around the country, delivered the inaugural lecture in 2003. Other lecturers have included polar explorer Robert Swan, Continental Mills CEO John Heily '67, Nike's president of USA operations Gary DeStefano, and co-founder of Mentor Graphis Gerry Langeler.
In addition to the lecture, the Pamplin School of Business also plans to induct two new members into its Hall of Fame, bringing the total to ten. The new inductees are Ralph Miller and Stephen L. Shepard, both of whom serve on the University's Board of Regents.
In 1976, Miller founded Manufacturing Management Incorporated (MMI), which specialized in purchasing and selling businesses. He and his wife, Sandi, endowed a scholarship fund for students who are naturalized U.S. citizens. In addition to receiving his MBA from the University of Portland in 1973, Miller also received a Doctorate of Humane Letters in 2009.
Shepard '58 is the managing director of M Benefit Solutions, which started in 1974, and pioneered the development and administration of nonqualified benefit plans. He and his wife, Donna, supported the creation of the University's Shepard Freshman Resource Center, which has been instrumental in helping students as they transition from high school to college.
For more information about the lecture, please contact the Center for Entrepreneurship at (503) 943-7769.