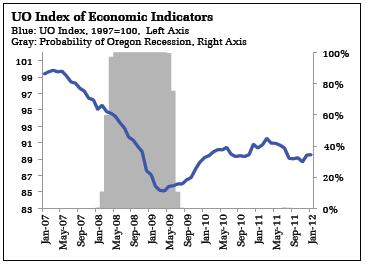 Tim Duy
Oregon Economic Forum
University of Oregon
– Economic activity continued to improve in January 2012. The Oregon Measure of Economic Activity gained from -0.45 in December 2011 (revised from -0.28) to 0.06, where zero indicates the average growth established over the 1990-2011. The three-month moving average also rose, and now stands at -0.47. The University of Oregon Index of Economic Indicators™ edged up slightly during the month.
– Similar to the December 2011, manufacturing and services sectors made positive contributions to the measure, while the construction and household sectors remain a drag. The low level of building permits relative to the past continues to weigh on the measure. Compared to previous trends, most of the components of the household sector also remain weak.
– Indicators used to construct University of Oregon Index of Economic Indicators™ were mixed. Initial unemployment claims rose sharply, but this looks like a temporary spike in the data that will be reversed in February. In contrast, consumer sentiment continued to rebound from the lows of last summer and fall. Confidence may weaken in the months ahead as household react to recent increases in gasoline prices.
– Core-manufacturing orders dropped sharply, potentially signaling the importance of business-tax credits in pulling forward some demand into the end of 2011 from the first part of 2012. The Oregon Weight Distance tax, a measure of trucking activity, continued to trend sideways.
– Compared to six months ago, the UO Index has fallen 1.8 percent (annualized), a second consecutive monthly improvement. This brings the decrease above the -2.75 percent level associated with Oregon recession in the past. This suggests continued growth in 2012. Note, however, that recent increases in oil prices are likely to weigh on household budgets, sapping some strength from growth.