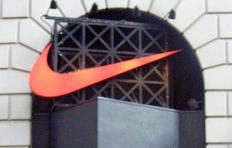 Business News Note:
Reebok has supplied NFL uniforms, and used that fact in its marketing, for nearly a decade. But on Sunday, Nike becomes the new supplier, and marketer, of NFL uniforms and merchandise. Naturally, Nike is suing Reebok for not playing fair. The reason: capitalizing on the Broncos' recent trade of Tim Tebow to the Jets, Reebok has begun selling Jets-related apparel bearing Tebow's name.
Normally NFL merchandise doesn't sell very well at this time of year, but the Tebow shirts have been selling at a furious rate. And Nike doesn't like that: customers who buy a Tebow jersey from Reebok this week probably won't be interested in buying another from Nike next week.
Nike will unveil its new uniform design for all 32 NFL teams in New York City next week, as part of its celebration of landing a five-year contract to be the exclusive supplier of on-field apparel to NFL teams.
Beaverton, Ore.-based Nike says that Reebok (which is a subsidiary of Adidas AG) failed to get Tebow's approval for using his name on its products. Therefore, says its lawsuit, Reebok misused publicity rights, meddled with business relationships, and enriched itself unfairly.   For more, see here