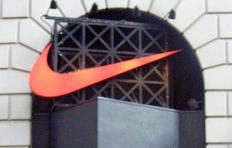 Nike Lawsuit: Fuel Clothing fights Nike Fuel
Fuel Clothing, Inc., a Hilton Head, S.C.-based clothing company, has sued Nike Inc. for trademark infringement. The suit was filed by Schmidt and Copeland LLC of Columbia, SC, and alleges that Nike is abusing the "substantial goodwill and reputation" that Fuel Clothing has built up through its advertising efforts. Nike has attempted to register "Nike + Fuel," "Nike + Fuelband," and "Nikefuel" as trademarks, and has also been selling a watch-like device called "Fuelband" that registers and records all body movement since the end of last month, whereas Fuel Clothing has trademarked the word "fuel" for clothing since early in 1992.
Fuel Clothing claims to have sent a cease-and-desist letter, which Nike has apparently ignored. The South Carolina company is asking the court to award damages in addition to litigation costs and attorney fees. After all, it argues, Nike is targeting customers that are clearly within the customer base Fuel Clothing has already established. Nike did not respond immediately to a request that it comment.