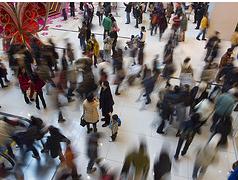 Cash Mobs offer Oregon hi-tech rescue
By Oregon Small Business Association
Small, locally-owned businesses across the country are getting a boost from a new phenomenon called cash mobs. The economic counterpart to flash mobs, cash mobs are mass runs on a local business for the purpose of buying products and generating income.
The novel concept is the brain child of Buffalo blogger and engineer Christ Smith, who says the cash mob idea is like a reverse Groupon. Instead of the business giving deals to consumers, consumers show up to pay regular price and help a locally owned business. Importantly, cash mobs target struggling locally-owned businesses that give back to the surrounding community. And as a social event, cash mobs also connect goodwill shoppers and cultivate long-term relationships between businesses and their customers. In these ways, Smith believes cash mobs can bring communities together during tough economic times.
According to a recent PRI report, Smith launched the first cash mob for a Buffalo wine shop in August 2011. Since then, cash mobs have been organized in 32 states across dozens of cities –places as diverse as Cleveland, OH; San Diego, CA; and Kenosha, WI. A Cleveland group has even created a set of "Mob Rules" to help other cash mob groups get started more easily. Through Twitter or Facebook, participants nominate businesses over a period of several days. The field is democratically narrowed to one final candidate. Once a business has been selected, individuals are given the location, an estimated time of arrival, and are encouraged to spend at least $20.
Last month, Lane County, Oregon, created a Facebook Fan Page for its cash mob events—the first of which was held for El Taco Express, an immigrant-owned Mexican restaurant in Springfield known for its low prices and exceptional food. The cash mob craze officially made it to Portland this past weekend as an area businessman, inspired by success in other cities, organized an event for Etcetera, a locally-owned novelty shop. Within a couple of hours, more than a hundred people signed up to participate. The event was considered a huge success by organizers and area businesses have agreed to promote a cash mob event each month.
Cash mobs reflect a growing trend of encouraging consumers to buy local as a way to help their communities during tough economic times. The Wall Street Journal recently reported on cash mobs, noting that bigger players are also promoting local shopping. American Express, for example, held an event late last year called "Small Business Saturday." American Express cardholders were given a $25 credit if they shopped at small retailers the day after Black Friday. Hundreds of thousands of cardholders registered for the event.