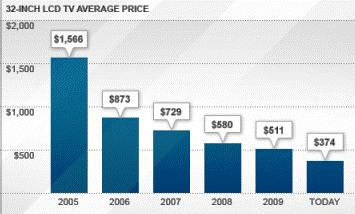 Huge Price Drops for Tablets, TVs, Travel & Super Bowl Tickets.
By Oregon Small Business Association
While the cost of essential items like gas and food will continue to rise, analysts predict that current economic trends favor lower prices on tablets, televisions, and travel in 2012.
Big screen TVs
If the past few years are any guide, consumers could purchase an LCD or 3D television for significantly less, as well. In just two years, the price of a 42" LCD TV has been cut in half and now sells for roughly $500. Recent reports indicate that the price of a 3D TV dropped more than 30% in 2011. According to one study, the number of households with an HDTV may now run as high as 60%, making market saturation of similar products a key driver of cheaper prices. Moreover, PCWorld recently reported that television manufactures are introducing new technology this year—think even thinner, lighter, more vivid TVs—in hopes of creating interest and demand for newer, more expensive televisions. Expect prices of current models to drop further as these new products are introduced and retailers respond by marking down existing inventory.
Super Bowl Tickets
The Boston Globe reports that cost for a 2012 Super Bowl ticket has dropped $300 as the big game  nears. The price dropped from $3,982 to $4,311.  Some prices in different markets have dropped by more than 20%.  The data was collected by aggregating ticket sales websites StubHub, EBay, TicketNetwork & TicketsNow. Ticket prices drop dramatically as unsold spaces remain open near game day.
Tablets
Consumers could get their favorite tablets for hundreds of dollars less in coming months. Among other things, Apple is expected to release its iPad 3 this year, which will likely make the iPad 2 more affordable. Whatever Apple does in the tablet market will inevitably challenge lesser competitors to respond with better products, lower prices, or some combination of both. Regardless of Apple, experts say the recent influx of poorly made, overpriced tablets that have flooded the market has set the stage for a market correction that will generally result in cheaper prices. According to USA Today, the new year has already seen manufactures slash prices as much as one-third in an effort to separate themselves from the competition. Research in Motion, for example, which makes the Blackberry Playbook tablet, has cut the price of its product from $299 to $100 in a well-advertised promotion. And Amazon and Barnes & Noble will continue to exert a downward pressure on prices as their increasingly popular tablets sell at cost and generate profit instead from additional content.
Travel
There are dueling predictions that world travel costs will either increase or decrease in 2012.    Here is the case that world travel prices could decline.    Empty airplane seats and fewer drivers may cause transportation companies to temporarily lower prices—at least in some destinations. While airplane tickets are expected to rise overall, major airlines are having trouble filling seats on cross-Atlantic flights. Travel to Europe might, therefore, be more accessible than in recent years if the trend continues and airlines begin slashing prices. Not only may it be cheaper in 2012 to fly to Europe, a weakening Euro and Europe's ongoing economic problems may help your dollar go farther than it has in years in terms of meals, lodging, and other items. As for domestic travel, analysts predict that car rental companies will have more inventory than demand this year. That could bode well generally for many domestic travelers in search of cheap rental deals. And consumers will get a little help from a new federal rule that requires airlines to make the actual costs of a ticket—fees and all—more transparent. That means more informed decisions and fewer surprises when time to checkout at the ticket counter.