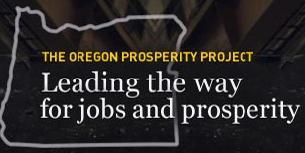 New Ballot Measure Says "NO" to Double Taxation of Property
By Oregon Prosperity Project
Already nearly 100,000 Oregonians have signed the petition to stop real estate transfer taxes in Oregon. Over 116,284 signatures will be needed to put this measure on the November 2012 ballot.
The measure, Initiative Petition 5, prohibits the practice of taxing home sales in Oregon. These taxes are a form of double taxation on top of property taxes that are paid to support schools and local government.
In reality, these taxes on home sales, known as Real Estate Transfer Taxes, are not common practice in Oregon, though they are common throughout the country. In Oregon, only Washington County levies a small tax on the sale of property.
However, over the past decade, the Oregon Legislature has considered nine attempts to authorize a home sales tax at the state or local level.
It's a real issue, and the impact of a Real Estate Transfer tax is significant. At a 2% tax rate (the current national average), it would add $3,800 to the average home sale in Oregon, further dampening this critical sector in our economy.
For more information on the petition click here