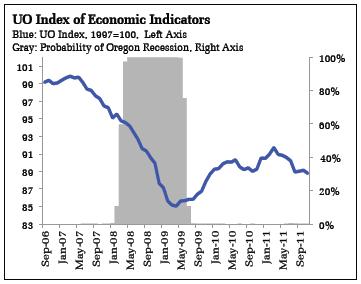 By Tim Duy,
Oregon Economic Forum

The Oregon economy lost momentum in November. The three-month moving average of the Oregon Measure of Economic Activity was -0.93, largely unchanged from October. The University of Oregon Index of Economic Indicators™ slipped 0.3 percent to 88.8 (1997=100) in November.
Further comments:
• The Oregon Measure of Economic Activity indicates Oregon is growing below the trend rate of growth established over the 1990-2011 period. The manufacturing, construction, household and services sectors all weighed negatively on the measure.
• Inflation-adjusted personal income less transfer payments grew at a slower rate in the third quarter, up 2.3% year-over-year. Compared to the first quarter, this measure of income is essentially flat, consistent with slow economic growth.
• The majority of the underlying components in the UO Index deteriorated during the month, including Oregon employment services payrolls (largely temporary help firms), the Oregon weight-distance tax (a measure of trucking activity), consumer sentiment, core manufacturing orders, and the interest rate spread.
• Although initial unemployment claims continued to decline, suggesting sufficient economic activity to limit the pace of layoffs, hiring gains remain tepid. Consequently, Oregon total nonfarm payrolls have moved sideways since February.
• Compared to six months ago, the UO Index has fallen 4.5 percent (annualized), a decline from last month's 3.9 percent decline. This marks the fourth consecutive month the UO Index has declined more than 2.75 percent, a pattern of declines that has been associated with Oregon recession in the past. Together with the ongoing European financial crisis, the UO Index continues to suggest caution with regards to the outlook for 2012.