State Tax Revenues on the Rise
By Patrick Emerson
Oregon Economics Blog
Or so says the Rockefeller Institute who tracks state tax revenue from 48 states:
"Preliminary tax collection data for the July-September quarter of 2011 show growth in overall state tax collections, as well as for personal income tax and sales tax revenue, for the seventh consecutive quarter. While still strong, revenue growth was more moderate than in the previous three quarters. We will provide a full report on the July-September period after Census Bureau data for the quarter are available."
The Rockefeller Institute's compilation of data from 48 early reporting states shows collections from major tax sources increased by 7.3 percent in nominal terms in the third quarter of 2011 compared to the same quarter of 2010. This is a noticeable slowdown from the 10.8 percent year-over-year growth reported in the second quarter of 2011. Tax collections now have been rising for seven straight quarters, following the five quarters of declines that were brought on by the Great Recession."
Here are the data for Oregon and Washington (PIT=Personal Income Tax; CIT=Corp. Inc. Tax; Sales=Sales Tax):

Percent Change in State Tax Revenue, July-September 2010 to 2011
Fortunately for Oregon personal income taxes in general are recovering faster than are sales taxes as people are probably using new income to pay down debt and build up savings (though the saving rate has begun to dip again, so sales taxes will probably pick up soon). Overall a 10.4% increase is a nice healthy rebound for Oregon and from what I understand, above both of the two most recent forecasts for Oregon. This from the OEA blog: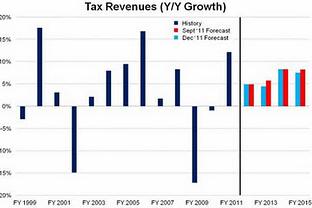 Let's hope the trend continues. If the Euro mess can get sorted (and there is good news on that front), this fledgling US recovery might just start to gain some momentum.