Oregon's latest revenue forecast was just released and the news is not good.
By State Representative Dennis Richardson
The anticipated state revenue from the General and Lottery Funds has been readjusted downward by another $107 million. This $107 million reduction, follows the $198 million revenue decrease discussed in the August Forecast newsletter. In short, $305 million of expected revenue for the 2011-13 State Budget has evaporated since the 2011 legislative session adjourned on June 30th, and no meaningful economic recovery is in sight.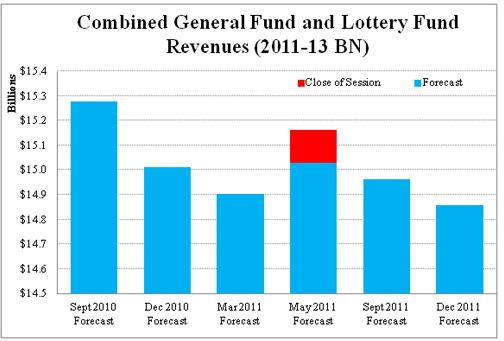 As you may recall, during this year's legislative session considerable debate occurred over the decision by the Co-Chairs of the Joint House & Senate Ways & Means Committee to retain $460 million in the State Budget's Ending Balance. Even though it was prudent to hold back a reasonable Ending Balance and the Republican and Democrat Co-Chairs agreed to it, there were malicious political attacks by organizations that wanted me to spend more than Oregon could afford. In a campaign of disinformation, these partisan organizations paid thousands of dollars on untrue, statewide television attack ads (Click here) that targeted me for standing firm. They did not recognize the prudence of reserving "more than $440 million" to protect Oregon programs and services from the reductions in revenue we are currently experiencing.
The good news is that having withstood the political pressure to spend every dollar and by retaining the $460 million Ending Balance, none of the $305 million of reduced revenue will be taken from the budgets for public safety, human services or education. To paraphrase Benjamin Franklin, once again "an ounce of prevention has been worth a pound of cure."
So far, the $460 million Ending Balance has been sufficient to absorb the $305 million reduction in 2011-13's first two revenue forecasts, but we are less than ¼ the way through the 24 month biennium.
Looking ahead, although it was a struggle to gain bipartisan agreement to reserve an Ending Balance of $460 million, with 19 months and six quarterly forecasts remaining in this biennium we will find the cushion of $460 million was not nearly enough.
Sincerely,
Dennis Richardson
State Representative