by Tom Collamore
U.S. Chamber of Commerce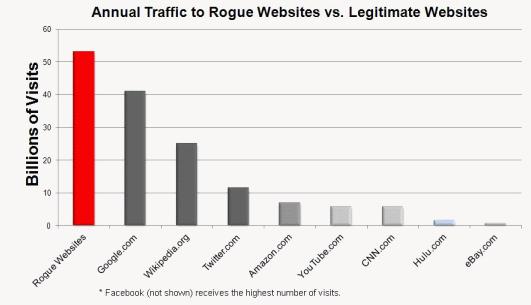 There was a really important hearing on Capitol Hill regarding the issue of rogue websites. As the testimony before the House Judiciary Committee shows, rogue websites have absolutely no place in the legitimate market: they do not follow laws, they do not pay taxes, they do not adhere to safety standards, and they do not innovate. Really, rogue sites contribute nothing, but manage to take a lot from those who do.
Businesses lose $135 billion annually to counterfeiting via rogue websites. Rogue sites are second only to Facebook in terms of Internet traffic, with nearly 53 billion site visits per year – that is nearly 9 visits per every man woman and child on this earth. Not to mention, 19 million American jobs hinge on the very industries that operators of rogue sites target.
That's why there is such a broad and deep coalition of more than 350 companies, trade associations, and professional organizations asking Congress for help against the theft of jobs by rogue sites.
The problem of counterfeiting and piracy over the Internet is so massive, so widespread, that it should not—in fact, cannot—be ignored. This is a point that we all can agree on. It's gratifying that everyone recognizes the need to tackle online theft of intellectual property, but we need more than just talking points.
There has been a great deal of discussion of rogue sites legislation that relates to copyright issues. Lost in that discussion is the reality that rogue sites threaten consumer safety by offering dangerously defective and deceptive goods. Consumers are all too often duped into purchasing dangerously illicit products—such as counterfeit prescriptions and electric appliances—from well-designed, legitimate-looking rogue sites that skirt international consumer safety standards.
While consumer health and safety is being undermined on one front, jobs in our most creative and innovative industries are being attacked on the other. The counterfeiting and piracy perpetuated by rogue sites stifles innovation by undercutting the investments in making the newest cancer drug, or latest "it" movie, or most innovative home technology.
The U.S. Chamber will always stand against criminals and on the side of American businesses and jobs. In pursuing the effort to reduce online counterfeiting and piracy, we have been and will always talk to those who have reasonable questions or concerns. Our goal is achieving a law that is both effective and commercially reasonable.