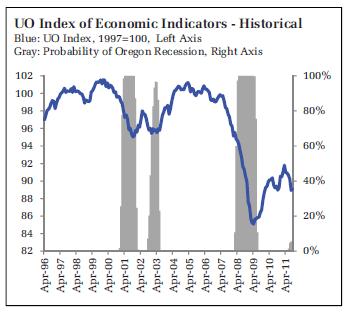 Tim Duy
Oregon Economic Forum
University of Oregon
The Oregon economy firmed somewhat in September. The Oregon Measure of Economic Activity improved to -0.78 from –1.12 in August. The less-volatile three month moving average improved to -1.03 from -1.13 in August. The University of Oregon Index of Economic Indicators™ rose 0.2 percent to 89.1 (1997=100) in September, breaking a string of 5 consecutive monthly declines.
Further comments:
• While the Oregon Measure of Economic Activity showed improvement, it still indicates Oregon is growing below the trend of growth established over the 1990-2011 period. Manufacturing, construction, household and services sectors all contributed to economic weakness.
• Particularly sharp falls in US consumer sentiment and the interest rate spread weighed on the UO Index, while initial unemployment claims improved, falling to their lowest level since March of this year. Core manufacturing orders also gained.
• Compared to six months ago, the UO Index has fallen 5.8 percent (annualized) and less than half the components have improved or held steady over that period of time. In the past, sustained declines of this magnitude foreshadowed labor market recessions in Oregon.
• I continue to believe that odds of a recession early next year exceed 50%, and as a consequence firms should at least plan for the possibility of reacting quickly to deteriorating economic conditions in the months ahead. The risk of recession stems primarily from the deteriorating European financial and economic situation and its potential negative impacts on an already weak US economy.
• Considering the lack of recovery in some typically cyclical industries such as residential construction, it seems likely the degree of downside is limited and thus if the economy should slide into a recession, the decline will appear mild relative to the most recent recession.
Timothy A. Duy
Director, Oregon Economic Forum
Department of Economics
University of Oregon – 1285
Eugene, OR 97403-1285