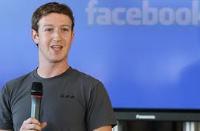 Facebook Oregon tax battle makes national news
By Oregon Tax News,
It has made national news that Oregon hit Facebook with a $390,00 surprise tax bill.   Within 24 hour sit was reversed down to $26,000.   The AP story on this tax battle made USA Today, The Washington Post and ABC news with the headline "Property tax confusion pokes Facebook in Oregon".   The feud comes at a terrible time as Facebook just completed it's data center in Central Oregon and has been hailed as an economic development success story for Oregon.

Even though the Revenue Department stated it was a miscalculation, it raises questions for Facebook.   The disagreement is over how Facebook will be taxed on intangible assets which can be massive for a popular name brand hi-tech firms.  The fear is that this intangible asset debate might be challenged  in the future or what the state may do.    Facebook came to Oregon because of its enterprise zones and qualifying for 15-year in local property tax breaks.
Crook County Judge Mike McCabe commented to Lars Larson Radio Show on the message Oregon is sending, "We've kind of known about this for a couple of months. It's been in the wind. Chris Telfer put it best when she said we were ambushed. I feel a great deal betrayed myself. Not even discussing the trust factor. Who's gonna want to do business in Oregon?"
On Facebook's "Prinveville Data Center" page it is mentioned that Facebook is building another data center in Lulea Sweden. Another Facebook data center is scheduled to open in North Carolina.
The Oregon data center also came under fire from environmentalist for using PacifiCorp power which uses coal.