Media Plus
Northwest's largest paid media communications firm
A recent article in American Journalism Review caught our eye. Titled "A Welcome Change", the article focuses on the increase in network news ratings following years of audience decline. While nobody is popping champagne corks, Q2 2011 vs. Q2, 2010 showed a 10% increase in total viewers nationally. While the average age of the network news viewer is over 60, all three of the majors (ABC, NBC and CBS) added viewers in the 25-54 age group.
This prompted us to take a look at trends in two local markets, Seattle and Portland, to see if increases in network affiliate network news ratings were reflective of national trends. The following chart tracks Adult 18+ratings (% of total 18+ Universe) and audience levels for March 2010 through May, 2011. Note that local affiliates can air network news any time within their two hour news window (5p7p), so time periods for local news vary in Seattle vs. Portland.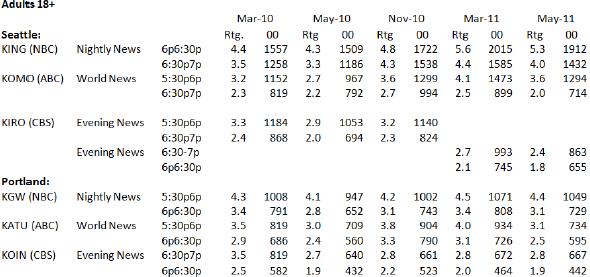 In Seattle, with the exception of KIRO, which switched time periods in January of 2011, stations saw significant growth in their network news audience March to March and May to May. In Portland, again with the exception of CBS, stations saw gains, although not as significant.
Also included in the chart is a local news airing in the 6p-7p time period so you can see who's leading the pack at the local level. Media Plus+ has pulled this comparison for all news airing M-F 5a-11:35p, so if anyone is interested in local market news trends, please just ask and we can email you the full analysis for the 18+ demo, as well as A35+, A50+ and A35-64. And if you would like a custom demo run, you only need ask.