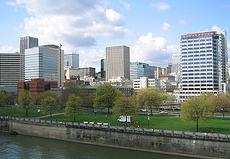 Portland Home Prices Continue Steady Decline
By Oregon Tax News
Housing figures for the first half of this year are in, and the numbers aren't good for the Portland Metro area.
According Standard & Poor's/Case-Shiller Home Price Indices, Portland's home prices declined 9.2 in April 2011 compared to April 2010—the nation's steepest decline second only to Minneapolis. That's a decline of more than five percentage points above the national average.
Despite April's poor showing, Portland's overall trend roughly mirrored the national average through the first six months of 2011. Nationally, home prices declined 3.2 percent from January through June. Portland prices, meanwhile, declined 3.3 percent. Analysts, however, project price declines to slow nationally to 2.4 percent between July and December, while Portland prices will continue a steady decline—an additional 3.4 percent over the same period.
Consequently, Metro area home prices, which peaked in May 2008, have now been reduced to September 2004 levels, including a 10.8 percent overall drop in the last year.
These figures put Portland's beleaguered housing market in the bottom 15 of the nation's worst performing major markets in terms of price decline, according to Clear Capital, a California-based company that recently released its monthly Home Data Index.
But it could be worse.
Detroit, for instance, saw its home values plummet nearly 20 percent so far this year. And, while Portland's projected decline for the second half of 2011 roughly mirrors first half numbers, markets such as Virginia Beach, Denver, Chicago, and Philadelphia are expected to perform substantially worse through December.
Despite continued declines, some analysts have expressed optimism that nationally the housing market is beginning to flatten out. While most major markets declined through June, homes prices overall actually gained .9 percent in the 2nd Quarter. Moreover, declines were relatively modest in most markets, and the pace of decline is expected to slow down further. The District of Columbia, New York, San Francisco, Orlando, Dallas are even projected to post modest gains for the remainder of the year.
It's unclear the extent to which improved price stability on a national level is a long-term trend, or whether any upward trends will take hold in Portland. Positively, Portland's April home prices, while down compared to a year ago, actually reflected a slight value increase from March. And, the decline projected for the second half of the year falls within one percentage point of the year's first half decline, reflecting a degree of price stability despite the downward trend.
However, some of the major markets that fared worse than Portland through June are expected to do better than Portland in the second half of the year, a trend that could mark the Rose City's housing market as one of the 10 worst performers.