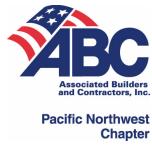 Michigan shooting prompts local contractors to speak out
— ABC calls for an end to union protests at business owners' homes
By John Killin
Associated Builders and Contractors,
Pacific Northwest Chapter
BEAVERTON, Ore – In the wake of a recent shooting of a non-union contractor outside his home near Toledo, Ohio, the Pacific Northwest Chapter of Associated Builders and Contractors called on area construction unions to put an end to practice of intimidating local business owners at their homes.
John King, a non-union electrical contractor, was shot in the arm outside his Lambertville, Michigan home recently when he surprised a man trying to slash the tires on his truck. The word "scab" was scrawled on King's vehicle.
According to news reports, there was a tie in to union intimidation. "It's gotten out of control," stated John Killin, president of ABC's local chapter. "With local unions continually trying to intimidate and confront business owners at their homes it was just a matter of time until something like this happened."
Killin said that it is not uncommon to get reports from local contractors of unions stalking them or holding demonstrations in front of their residences.
One such local contractor is Tina Slogowski of K2MG Interiors in Newberg. Slogowski explained that union officials have regularly followed her home or staked out her home and business. "As a woman, that's a bit frightening," she said. "You don't know their motivation or what they might try to do. This story makes such tactics even more concerning
"When you couple the Michigan shooting with the stalking and intimidation tactics here locally, it makes a lot of people nervous about what's ahead," Killin said. "It's time to put an immediate stop to these senseless acts of intimidation."