By National Federation of Independent Business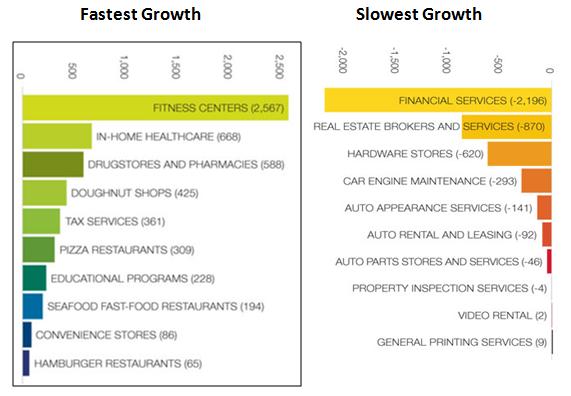 While a recession creates favorable conditions for some franchise sectors, others have been hit hard. Miroslava Marinova, senior research analyst and project manager at FRANdata, explains the reasons behind the growth and decline of key franchise sectors.
Speeding Ahead:
Healthcare: In-home healthcare franchises that cater to the ill and elderly, as well as pharmacies, tend to grow during good times and bad, and the aging baby boomer population is fueling them.
Fitness Centers: As the fastest-growing sector of 2010, fitness is now increasingly seen as a health necessity rather than a luxury. And with the budget-conscious customer in mind, many players in this space are making fitness more accessible to a broader audience. Fitness franchises also benefit from a membership-based model that provides consistent cash flow.
Fast-Food Restaurants and Convenience Stores: Perennial favorites, these restaurants and stores march on, providing value to the budget-conscious consumer through deep discounts and specials. Hamburger, doughnut and pizza restaurants are the strongest players.
Tax Services: The sector's major attraction is its low cost: The average initial investment is $60,000. It's also a good fit for unemployed tax professionals.
Educational Programs: Due to an increasing emphasis on education, tutoring, and learning centers for both children and adults are growing. Since competition in the job market is fierce, adults are hitting the books to make themselves more marketable.
Lagging Behind
Real Estate Services, Property Inspection, Hardware Stores: With the real estate market still struggling, franchises involved in buying, selling, inspecting and respiring a home are in decline.
Financial Services: Even though the markets started to stabilize in 2010, recover is still slow for banks and other wealth management services, as they were hit hard by the financial crisis.
Automotive: From car rental to repair and maintenance, auto-related franchises have lost units due in part to high gas prices and decreased traffic volume as consumers opt for public transportation or carpooling.
Video Rental, Printing: Technology advancements have shrunk both video rental franchises and printing centers,. Consumers can print documents from home or instantly stream movies to their TV and phone, making gong to a store passé.