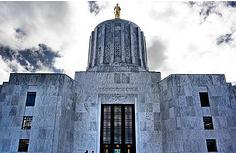 Matching state tax credit bill moves to Governor's desk
By State Representative Matt Wand Release,
SALEM—Rep. Matt Wand (R-Troutdale) today led House passage of Senate Bill 817 to help bring jobs to low-income communities across Oregon. The bill, known as the Oregon Low Income Community Jobs Initiative, creates a matching state tax credit to the federal New Markets Tax Credit to further incentivize economic development targeted to these hard-hit areas.
"This bill will help small businesses locate, expand and create jobs where they're needed the most," said Rep. Wand, who carried SB 817 on the House Floor and is one of the bill's chief co-sponsors. "More local jobs mean more revenue to fund vital programs in our communities. In particular, Rockwood needs these jobs."
SB 817 provides access to equity capital for small businesses that operate in census-based, federally-designated low-income rural and urban areas. It creates a tax credit against income and corporate excise taxes equal to 39 percent of the cost of a qualified equity investment. The tax credit can be used for operating capital, equipment and expansion costs for existing businesses.
The bill requires the credit to be taken over seven years, with no credit given for the first two years, a seven percent credit in the third year, and an eight percent credit in each of the subsequent four tax years. Investments are capped at $4 million, and real estate development and rental businesses are excluded from the tax credit.
Based on the tax credit's success in other states, Oregon Low Income Community Jobs Initiative is expected to attract at least $200 million in new investments in low-income communities. These investments will support thousands of jobs, and generate as much as $31 million in new revenue to the state's General Fund in the first 12 months of the credit's implementation.
"Small businesses in low-income areas have a difficult time securing the capital they need during this economic downturn," Rep. Wand said. "By passing Senate Bill 817 today, we have committed to encouraging investment and economic development in Oregon."
SB 817 now moves to the Governor's desk.