B

usiness Alert: What a rogue website looks like
By U.S. Chamber of Commerce
General stores and convenience stores got their names exactly because of the way they served their neighborhoods and communities. General products and goods at convenient locations, in case you ran out of milk or wanted to indulge your sweet tooth. Unfortunately, rogue website operators have mimicked this idea, brought it to the web, and started hawking counterfeit goods. Criminals have created rogue websites, such as www.webvipshopping.com, which serve as a virtual bazaar of counterfeit products. Not quite the same as the local, neighborhood convenience store.
This website sold knockoffs of numerous products, but perhaps the most striking counterfeit product sold on this website was cigarettes. WebVIPShopping.com didn't mind making money off kids of any age, so it didn't require age verification at checkout. And it shipped those cigarettes into the U.S. in ways that were almost certainly illegal. Further, the site did not charge for state excise taxes after completing a purchase, depriving our state and local governments of revenue to which they were legally entitled. Consumers who made a purchase on this website got much more, or perhaps much less, than they bargained for.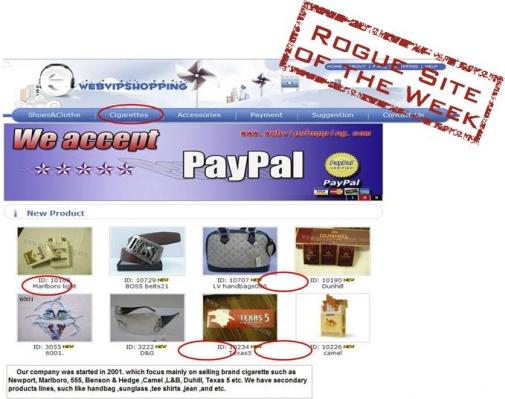 But the rest of the story of WebVIPShopping.com is more encouraging. A law suit was filed against the owners and operators of that site and before the court could even hear the case, the site was shut down. Apparently, a little sunlight makes the roaches run for cover.
Rogue websites, operating much like a criminal in the black market, have total disregard for U.S. laws which are designed to protect consumer safety and intellectual property. They steal American products and thus hamper our ability to invent, innovate, and create new products. WebVIPShopping.com and its like on the Internet that operate virtual general stores of counterfeits have no place in the legitimate online marketplace. Rogue websites don't play by the rules and we cannot continue to give them a platform to function at the expense of our jobs and our consumers. Congress needs to enact on PROTECT IP Act sooner rather than later to cut off these rogue sites from the U.S. marketplace.
Visit www.fightonlinetheft.com for more information on the Rogue Site of the Week project and the Campaign Against Online Theft.