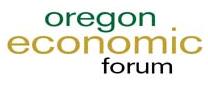 By Tim Duy,
Oregon Economic Forum


The University of Oregon Index of Economic Indicators™ rose 0.7 percent to 92.0 in March 2011, the fifth consecutive monthly gain. Of the seven indicators that comprise the UO Index, four – Oregon initial unemployment claims, Oregon employment services payrolls, Oregon residential building permits, and core manufacturing orders– improved in March.
Highlights of the report include:
– Initial unemployment claims fell, more than offsetting the gain in January and February. The decline brings claims to the lowest level since March of 2008. Overall nonfarm payrolls (not included in the index) slipped after several months of strong gains. During the first quarter of 2011, however, the Oregon economy has added an average of 4,633 jobs per month.
– Residential building permits (smoothed) gained after three months of stagnation. Multifamily housing accounted for almost half the units permitted in the raw, non-seasonally adjusted data as demand for rental units offsets the decline in homeownership rates in the wake of the housing bubble.
– Core manufacturing orders –nondefense, nonaircraft capital goods – improved significantly, offsetting the decline of the two previous months; this is a welcome signal that demand by firms for investment goods remains solid.
– Consumer confidence (smoothed with a five month moving average) was stagnant in March as higher energy costs weighed on consumers.
– Continued economic improvement is likely as national gains propel activity in Oregon. That said, forecasts suggest the pace of growth still falls short of the rapid gains normally experienced when the economy rebounds from a deep recession. Consequently, the recovery is still anticipated to be a lengthy process.
Timothy A. Duy
Director, Oregon Economic Forum
Director, Undergradute Studies
Department of Economics
University of Oregon – 1285
Eugene, OR 97403-1285