By BDO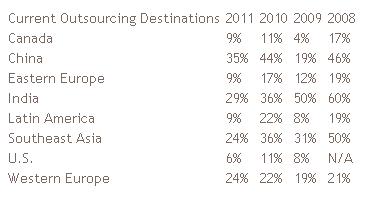 Chicago, IL –– According to a study by BDO USA, LLP, a leading accounting and consulting organization, only 35 percent of U.S. technology companies surveyed are currently outsourcing services or manufacturing to companies outside of the U.S. This represents a 43 percent decrease from the 2009 high when 62 percent of companies were outsourcing and a slight decline from 2010 (37%).
The study of 100 chief financial officers (CFOs) also found that of the companies who are not currently outsourcing (65%), the majority would not consider outsourcing beyond their backyard (58%), either choosing the U.S. (25%), Canada (13%), or indicating no plans to outsource at all (20%). And while some U.S. regulations have CFOs concerned (83% note concern with the changing national tax landscape), jobs and operations are not expected to head overseas any time soon.
"Outsourcing can be looked at as a bellwether of the economy," said Don Jones, Partner in the Technology and Life Sciences Practice at BDO USA, LLP. "Tech companies turned to outsourcing in 2009 in order to reduce operating costs and ride out the recession. Since then, we've seen a marked decrease as companies recover and look to create jobs and growth close to home."
These findings are from the fourth-annual BDO Technology Outlook Survey, which examines the opinions of 100 chief financial officers at leading technology companies located throughout the U.S. The survey was conducted in January, 2011.
Other major findings of the 2011 BDO Technology Outlook Survey:
New Regulations May Bolster the Industry.
R&D Tax Credit – When asked about the Obama administration's proposed permanent R&D tax credit, 71 percent of CFOs said that it would positively affect their company.
Revenue Recognition – Sixty-eight percent of CFOs say that the FASB's recent and proposed revenue recognition rule changes will be either neutral (23%) or positive (45%) for their company. A vast majority (79%) do not expect the changes to affect their selling practices.
IFRS vs. GAAP – The majority of CFOs (68%) think that the convergence from the U.S. GAAP to IFRS will have no impact on their ability to remain competitive with international firms. Still 20 percent are more positive, suggesting it will make them more competitive with international firms.
International Growth Remains a Challenge for Some. While new regulations in the U.S. are helping to propel the tech industry forward, uncertain business and political climates abroad may be hindering international growth. Thirty-one percent of CFOs cite this as their primary challenge, and an additional 19 percent cite international business and tax regulations as their biggest hindrance to international growth. CFOs also point to intellectual property risk and exploitation (19%), training of international employees (17%) and currency risk (14%) as concerns
Outsourcing is Down Across the Board. Overall, fewer CFOs say they are currently outsourcing. The average destination saw a 29 percent decrease. Western Europe was the only destination that did not see a decrease, with a small but notable 9 percent increase. Below is a comparative chart of outsourcing destinations: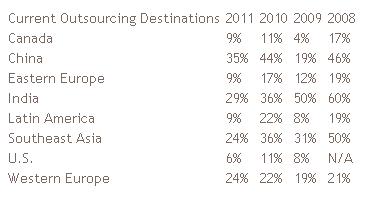 India Surpasses China as Leading Location for Future Outsourcing. The CFOs who are currently outsourcing (35%) were asked to choose one country where they are considering outsourcing to in the future, and for the first time since 2008, India surpassed China as the leading location. This year 15 percent of CFOs also said they would not consider additional outsourcing in the future.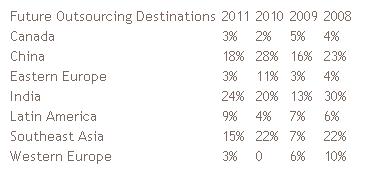 Manufacturing is Most Likely Service to be Outsourced. Of the 35 percent of respondents that are currently outsourcing outside of the U.S., their outsourced services include manufacturing (53%), IT services and programming (43%), R&D (38%), distribution (26%) and call or help centers (12%). "Manufacturing is most commonly outsourced because it can be both labor and capital intensive," said Jones. "When done right, an outsourced manufacturing function can cut operating costs and help tech companies to realize significant savings."
The 2011 BDO Technology Outlook Survey is a national telephone survey conducted by Market Measurement, Inc., an independent market research consulting firm, whose executive interviewers spoke directly to chief financial officers. Market Measurement used a telephone survey performed within a scientifically-developed, pure random sample of U.S. technology companies in the software, hardware, telecommunications, internet and information technology services sub-sectors.
About BDO
BDO is the brand name for BDO USA, LLP, a U.S. professional services firm providing assurance, tax, financial advisory and consulting services to a wide range of publicly traded and privately held companies. For 100 years, BDO has provided quality service through the active involvement of experienced and committed professionals. The firm serves clients through 40 offices and more than 400 independent alliance firm locations nationwide. As an independent Member Firm of BDO International Limited, BDO serves multinational clients through a global network of 1,082 offices in 119 countries.
BDO USA, LLP, a Delaware limited liability partnership, is the U.S. member of BDO International Limited, a UK company limited by guarantee, and forms part of the international BDO network of independent member firms. BDO is the brand name for the BDO network and for each of the BDO Member Firms. For more information please visit: www.bdo.com.