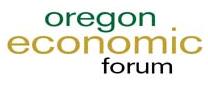 By Tim Duy,
Oregon Economic Forum
sponsor, KeyBank.
The University of Oregon Index of Economic Indicators™ was flat in January at 90.6 (1997=100) after a revised 1.5 percent gain in December. A sharp decline in core manufacturing orders offset otherwise generally positive indicators.
Highlights of the report include:
• The UO Index was revised to update seasonal adjustment methodology and factors and to adjust the measure of trucking activity to take into account recent changes in tax rates. The weight-distance tax revenue is now reported as an index, with 1998=100.
• Initial unemployment claims and employment services payrolls – largely temporary help workers – were generally steady during December, retaining improvements evident in recent months. As expected, these improvements are visible in the broader labor market, with job growth accelerating in the final months of 2010 and the beginning of 2011.
• Core manufacturing orders declined sharply, entirely reversing December's gain. This series, however, has been very volatile in the last year. It would be premature to read much into the decline given other signs of improving manufacturing activity, notable recent reports from the Institute of Supply Management.
• Residential building permits (smoothed) remained effectively flat as this sector continues to lag the overall recovery. Improving job markets will eventually provide additional support for housing, although potential buyers are expected to face continued tight underwriting conditions relative to what became the norm during the last decade.
• The UO Index suggests ongoing improvement in economic activity in Oregon, consistent with signals of building momentum in the national economy. Strength in the final quarter of 2010 looks to have carried forward into 2011, suggesting a more consistent pattern of growth this year.
• The recent rise in commodity prices, however, is something of a cloud on the outlook. The gains to date do not appear to be sufficient to derail the recovery, but this would likely change should commodity prices continue to rise at the rapid pace of recent months. For more information about the possible consequences of the sharp rise in commodity prices, please see this:
http://economistsview.typepad.com/timduy/2011/02/commodity-shock.html
Timothy A. Duy
Director, Oregon Economic Forum
Director, Undergradute Studies
Department of Economics
University of Oregon – 1285
Eugene, OR 97403-1285