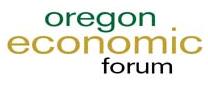 By Tim Duy,
Oregon Economic Forum
sponsor, KeyBank.
The University of Oregon Index of Economic Indicators™ rose 2.7 percent in December to 90.5 (1997=100). All indicators improved compared to the previous month. Compared to 6 months ago, the UO index is up 3.5 percent, a sharp improvement from the 2.3 percent decline of the previous month.
Highlights of the report include:
– Labor market indicators were generally improved. Initial unemployment claims declined sharply, falling to their lowest level since April 2008. Similarly, employment services payrolls – largely temporary help workers – rose substantially during December, another indication that firms are looking to boost hiring as economic activity improves.
– New orders for nondefense nonaircraft capital goods rose, building on an upwardly revised gain in November and moving above the generally sideways movement that began this summer. December's gain suggests business investment spending will accelerate in early 2011.
– Residential building permits (smoothed) gained, albeit from very low levels. Still, any improvement is welcome in this beleaguered sector. Consumer confidence also rose, although improvement is muted compared to the solid gains in consumer spending during the final months of 2010. Confidence appears to remain restrained by high unemployment rates and higher gas prices.
– The interest rate spread between 10-year treasury bonds and the Federal Funds rate widened dramatically as investors continued to upgrade their assessment of the US economy.
– The UO Index has now completely reversed the losses experienced this summer, alleviating concerns of a double dip recession. Similarly, national level indicators improved at the end of 2010, with the economy re-accelerating after suffering a mid-year slowdown. Improving national conditions, combined with rising state level measures of activity, point toward a more even, sustainable pattern of economic growth in Oregon in 2011.
Timothy A. Duy
Director, Oregon Economic Forum
Director, Undergradute Studies
Department of Economics
University of Oregon – 1285
Eugene, OR 97403-1285