Ad Watch:
Below is the text from a full page ad being put out by the U.S. Chamber of Commerce to help expand free trade in American at a time when many free trade agreements are stalled.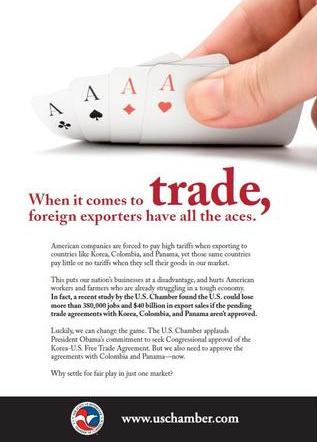 When it comes to trade, foreign exporters have all the aces.
American companies are forced to pay high tariffs when exporting to countries like Korea, Colombia, and Panama, yet those same countries pay little or no tariffs when they sell their goods in our market. This puts our nation's businesses at a disadvantage, and hurts American workers and farmers who are already struggling in a tough economy.
The U.S. Chamber applauds President Obama's commitment to seek Congressional approval of the Korea-U.S. Free Trade Agreement. But we also need to approve the agreements with Colombia and Panama—now.