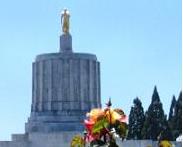 Gov. calls for appointment of independent personnel review relating to Dept. of Energy contracting.
— Governor announces several management changes and calls for independent personnel review following DOJ announcement that no criminal charges will be filed in DOE contracting investigation.
Governor Kulongoski Press Release
(Salem) – Governor Ted Kulongoski received a letter from the Oregon Department of Justice (DOJ) reporting its decision not to bring criminal charges relating to the contracting of the Energy Assurance Grant at the Oregon Department of Energy (DOE). This investigation was initiated at the request of the Governor in August. Governor Kulongoski announced, "Now that the Department of Justice has completed its criminal inquiry, I have ordered the resumption of the state personnel review process relating to contracting practices at the Oregon Department of Energy. That review process will be conducted by an independent reviewer, outside state government."
The Governor is in the process of identifying a qualified person from outside of state government to conduct the independent review, which will include but not be limited to, reviewing the DOJ investigation files and seeking any additional materials or other relevant information deemed necessary to this matter.
The Governor also announced several management changes in state government.
The Department of Administrative Services (DAS) Director Scott Harra will assume the position of Deputy Director of the Oregon Department of Consumer and Business Services (DCBS) effective immediately while current, and former Acting Director of the DOE, Deputy Mark Long is on administrative leave, pending the recommendations from the independent personnel review.
Harra is prepared to serve as Interim Director of the agency after DCBS Director Cory Streisinger leaves the agency at the end of the Governor's term as previously announced.
Deputy DAS Director Kris Kautz will assume the role of the Acting Director of DAS until further notice.
The three other former Department of Energy employees will remain on administrative leave pending the independent review.
The independent reviewer will make recommendations on employment and personnel issues to the appropriate appointing authorities upon conclusion of the review process.