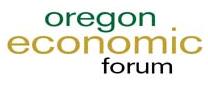 By Tim Duy,
Oregon Economic Forum
sponsor, KeyBank.
The University of Oregon Index of Economic Indicators™ rose 0.2 percent to 87.2 (1997=100), the second consecutive monthly increase. Compared to six months ago, more than half the index components declined while the UO Index fell 5.9 percent (annualized).
Highlights of the report include:
• The UO Index was revised to reflect improved estimates of payrolls in the employment services sector – largely temporary help firms. Another of the members of the Governor's Council of Economic Advisors, Ham Nguyen, noticed that these estimates were likely to be officially revised upwards when the employment department issues new estimates early next year. The revisions resulted in a more pronounced rise in the UO Index during the early stages of the recovery, but the mid-year recovery remains intact.
• Both initial unemployment claims and employment services payrolls – largely temporary hiring – were largely unchanged. The overall trends in these indicators, elevated initial claims and stagnating employment services payrolls, generally suggests weak hiring activity.
• Aggregate nonfarm payrolls for Oregon (not included in the index) gained a substantial 13,000 in October and November combined, effectively compensating for a period of weak gains during the middle of the year and bringing nonfarm payroll gains in-line with this decade's relationship between US and Oregon nonfarm payrolls. Particularly welcome is the acceleration in private sector employment in last three months. That said, the bulk of the gains have been within the education and retail trade sectors, which could reflect unusual seasonal hiring patterns this year and thus are not reflective of the underlying trend.
• This month's report was delayed due to a delay in the release of the weight-distance tax revenues release. Weight-distance taxes – a measure of trucking activity – increased in October, but that increase as yet does not appear to have worked its way through to revenues collected. This is due to payment timing issues, as carriers can elect to pay with a slight lag. As the impact of the tax increase becomes evident, the UO Index will be adjusted accordingly. For this month, the Oregon weight distance tax (smoothed), a measure of trucking activity, edged down moderately during the month, as did consumer confidence.
• The interest rate spread between 10-year treasury bonds and the Federal Funds rate dropped for the sixth consecutive month. Note that this pattern reversed in November and December as incoming data suggested the US recovery is gaining strength.
• During the 2001-03 period, initial gains in the UO Index were followed by a pullback with a subsequent decline in nonfarm payrolls. A similar pattern emerged this year, albeit the magnitude of the swing was greater than that earlier this period. Still, with the UO Index again stabilizing and nonfarm payrolls increasing, it looks as if Oregon will avoid a second "echo" recession. This would be consistent with newly rising US growth forecasts in the final quarter of this year.
Timothy A. Duy
Director, Oregon Economic Forum
Director, Undergradute Studies
Department of Economics
University of Oregon – 1285
Eugene, OR 97403-1285