Welcome to Oregon … things look bleak here
by Eric Fruits
EconInternational
Some bad economics news coming out of Oregon. First, Portland's mayor rejects an economic study because it doesn't blow enough sunshine about the city's business environment and its livability. Next, the the governor elect, speaking at the business/politician cabal better known as the Oregon Business Plan Leadership Summit, declares that the state is in a "death spiral."
Now, it is revealed that our "best and brightest" are facing some pretty dim job prospects.
The figure below suggests that colleges grads in the Pacific Northwest have little to look forward to when they hit the job market. So much for the theory that the "young creatives" will fuel our next economic boom.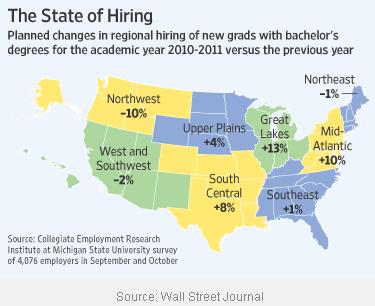 On the upside, the New York Times suggest that some college grads are finding success in starting their own businesses.
At the same time, this New York Times story suggests that self-employment is on the decline at is now at is lowest level since 2002.