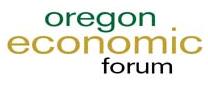 By Tim Duy,
Oregon Economic Forum
sponsor, KeyBank.
The University of Oregon Index of Economic Indicators™ rose 0.2 percent to 86.2 (1997=100), the first increase since June. Compared to six months ago, more than half the index components declined while the UO Index fell 6.4 percent (annualized).
Highlights of the report include:
• Initial unemployment claims fell sharply to their lowest levels since March, a welcome reversal of the upward trend of the past five months. The improvement suggests that the labor market firmed in September. Still, expectations of dramatic improvement would be premature as claims remain well above levels consistent with sustained job growth.
• Employment services payrolls – largely temporary hiring – rose slightly, but the overall trend in recent months remains disappointingly weak. Aggregate nonfarm payrolls for Oregon (not included in the index) fell 1,800 compared to a revised loss of 2,800 in August, while the unemployment rate again held at 10.6%.
• Residential building permits (smoothed) were largely unchanged during September, holding just shy of 500 permits for the third consecutive month. Similar to the rest of the nation, housing activity remains in the doldrums, unable to recover from the excesses of the housing bubble despite low interest rates.
• New orders for nondefense nonaircraft capital goods fell slightly, continuing its generally sideways trend since June and suggesting a general slowing of capital goods growth as firms satisfied some of the pent-up demand created as they slashed orders during the height of the recession. Separately, consumer confidence (smoothed) declined for the third consecutive month.
• The interest rate spread between 10-year treasury bonds and the Federal Funds rate dropped for the fifth consecutive month. The spread declined as market participants grew confident that the Federal Reserve would ease monetary conditions further to support flagging economic activity. The Federal Reserve matched those expectations on November 3, 2010 with the announcement of an expanded program of quantitative easing.
• Incoming data continue to signal a weak economic environment. The twin forces of inventory correction and fiscal stimulus waned in 2010, and subsequent growth has been insufficient to generate a rapid reversal of the labor market losses experienced in 2008 and 2009.
Timothy A. Duy
Director, Oregon Economic Forum
Director, Undergradute Studies
Department of Economics
University of Oregon – 1285
Eugene, OR 97403-1285
541.346.4660