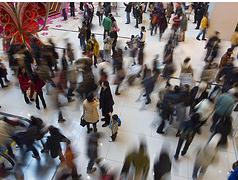 Washington County stealing the good job growth — or at least the good business headlines as of late
By Oregon Small Business Association,
While most of the state of Oregon suffers the effects of an economic slump, Washington County appears to be booming with new jobs, expanding companies and incentives for new businesses.  The recent positive news in Washington County shows means more jobs for the greater Portland area.
– Nike sees "record" growth,
– Intel sees "record" profits,
– ACS adds 450 jobs,
– Tektronix expands
Beaverton based Nike, Inc. rose to the highest since the company went public in 1980, beating some analyst's estimates.  Most of the sales growth were in North America and China. Sales from the Nike North American brand have increased 8 percent to $1.9 billion and Nike's apparel sales rose 16 percent to $515 million.  Sales in China are strong too, with an increase of 11 percent to $460 million.  Orders of Nike products are up 23 percent in China.  Nike has strong brand loyalty and as consumers have more dispensable income, they are choosing to use it on their products.   Intel, which has a large presence in Washington County, set an all-time records for revenue and operating income in the third quarter with a net income of $3 billion.  This is great news for the 15,000 Intel workers in Washington County.

Affiliated Computer Services, or ACS announced this week their plans to open a new call center in Tigard.  The company plans to hire 350 employees, which will add to their current 450 employees in their Tualatin office.  ACS provides technical support and customer service calls for consumer electronics and technology companies. Also, Beaverton based Tektronix, Inc., recently announced their formation of Tektronic Service Solutions, an option for customers that is essentially a Care Plan, providing worry-free ownership on their midrange and high-performance instruments.
Maintaining the Momentum with Incentives — Beaverton Acts
In an effort to continue to draw more businesses and jobs to the area, the Beaverton City Council has adopted the Small Business Incentive Program.  The program's main goal will be to attract new businesses, specifically those businesses that are expanding, opening or relocating to formerly vacant space in Beaverton.  The program will waive fees such as the initial business licenses, planning service fees, site development fees and the Building Services Division permit fees.