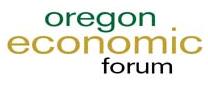 By Tim Duy,
Oregon Economic Forum
sponsor, KeyBank.
The University of Oregon Index of Economic Indicators™ edged down 0.2 percent to 86.3 (1997=100).  Compared to six months ago, more than half the index components declined while the UO Index fell 5.9 percent (annualized).  In the past, declines of this magnitude signaled impending weakness in Oregon nonfarm payrolls.
Highlights of the report include:
•         Weak economic conditions continue to weigh on labor markets. Initial unemployment claims rose again, continuing the upward drift that began in April.  Employment services payrolls – largely temporary hiring – were essentially unchanged.  Both trends are disappointing and signal that despite being in a recovery phase, the pace of economic activity continues to fall short of that necessary to generate solid job growth.

•         Consumer confidence continued to decline. Although household spending is growing, weak job growth tempers the pace of gains.

•         New orders for nondefense nonaircraft capital goods rebounded, largely offsetting a worrisome decline in July. This is a hopeful sign that the pace of manufacturing activity will not falter abruptly in the near future.
•         The interest rate spread between 10-year treasury bonds and the federal funds rate dropped for the fourth consecutive month as the deteriorating economic outlook prompted market participants to anticipate an expansion of monetary easing.

•         The UO Index continues to follow a pattern similar to its behavior in the 2001-2003 period. The 2001 recession was followed by a sharp but temporary upturn in the UO Index.  A subsequent reversal of gains signaled renewed economic weakness.  The resulting "echo" recession triggered a renewal of job losses. Assuming the pattern is repeating itself now and is not reversed soon, the UO Index signals that, at a minimum, sustained labor market recovery will be delayed until next year with actual job losses possible over the next three to six months.
FINAL WEEK TO REGISTER!
7th Annual Oregon Economic Forum
October 21, 2010
Oregon in the Aftermath – Back on track?
The impact of the financial crisis has waned, with glimmers of light at the end of the long, dark tunnel of recession.  But optimism is mixed with a healthy dose of pessimism.  How fragile is the recovery?  How long will it take to recover the jobs lost to the recession?  Will Oregon come roaring back from the recession, or will we be left behind?  Is Portland's economy really on par with comparable cities?  University of Oregon economists will answer these questions and more at this year's Oregon Economic Forum.  And be sure to bring your own questions!  This year we are adding extended time for audience participation, giving you a chance to ask the question most relevant to your business.  Also included is a special keynote address by John Fernald, Vice President of Macroeconomic Research at the San Francisco Federal Reserve Bank.  We look forward to seeing you at this special event.
Scheduled Speakers
Tim Duy, Director, Oregon Economic Forum, University of Oregon
George W. Evans, John B. Hamacher Professor of Economics, University of Oregon
Mark A. Thoma, Associate Professor of Economics and author of the popular weblog Economist's View, University of Oregon
Jeremy Piger, Associate Professor of Economics, University of Oregon
John Fernald, Vice President of Macroeconomic Research, Federal Reserve Bank of San Francisco
Special thanks to our presenting sponsor,  KeyBank.
Thank you to all of our sponsors:  Portland Business Journal, Port of Portland, Collier's International, and the Portland Business Alliance
Governor Hotel
614 Southwest 11th Avenue
Portland, OR 97205
(503) 224-3400
7:15am to 11:15am
Breakfast included