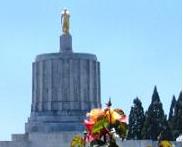 Forbes Ranks Oregon No. 6 in Business Climate
–Hunt Says Recent Expansions Proof that Oregon is Business Friendly
By Oregon  House Speaker's Office
Oregon House Speaker Dave Hunt said today that a new Forbes ranking placing Oregon as the sixth best in the country for business and careers is further proof that the recent wave of relocations and expansions into Oregon is proof that Oregon is business friendly.
Hunt pointed to the Intel expansion announcement set for next Tuesday, plus recent announcements from Vestas, Hi-Tec, Facebook, Fed-Ex and other national companies as proof that Oregon's business climate is strong and improving. (See list below).
Hunt noted that Oregon moved up four spots from No. 10 a year ago.
"All across Oregon we're seeing very positive signs of economic recovery. The pace of job creation is still slow, but with over a dozen recent announcements of major companies expanding or relocating to Oregon, it is clear that Oregon remains one of the best places in the country to do business," said Hunt. "Add to that the wave of transportation and capital construction projects we approved last session and faster job growth in Oregon is just around the corner."
The Forbes survey ranked six categories including costs, labor supply, regulatory environment, current economic climate, growth prospects and quality of life.
Oregon ranked No. 4 for labor supply, No. 12 for growth prospects, No. 18 for business costs, No. 14 for economic climate, No. 21 for quality of life and No. 34 for regulatory environment, according to the Forbes report.
"We still have opportunities to make Oregon an even better place to do business, especially when it comes to Oregon's regulatory climate. But it is clear that Oregon is among the top states in the nation when it comes to business climate," said Hunt. "The recent wave of businesses coming to and expanding in Oregon is proof that this Forbes ranking is accurate and that Oregon is open for business."
Recent Business Announcements in Oregon:
Garmin – Salem (8/24, Statesman Journal)
Expanding call center operations
Will add 200 workers at new facility (25-50 of these workers will be hired and working before the holidays at a temporary facility)
Vestas – Portland (8/18, Oregonian)
Building new North American headquarters, adding jobs
Will add as many as 200 jobs, for a total of 600 in Portland (plus 674 construction jobs)
FedEx – Troutdale (8/17, Gresham Outlook)
Opening 450,000 sq ft distribution center
200 new package handler jobs for a total of 700 jobs (many jobs transferred from Swan Island facility); long term, facility may employ 1,000
Facebook – Prineville (8/2, Portland Business Journal)
Doubling size of the data center that is currently under construction
35 long term jobs once center is complete (plus 150-200 jobs during construction, planned to last until early 2012)
Solexant – Gresham (7/19, Oregonian)
Building a manufacturing plant for thin film solar cells
Will initially employ 100 people, increasing to 170 at full production
Grape Solar – Eugene (6/2, Oregonian)
Planning a solar panel assembly plant in Eugene
Could employ 200 assembly workers
SolarWorld – Hillsboro (5/5, Sustainable Business Oregon)
Moving forward with hiring plans
Adding 350 jobs at Hillsboro plant by the end of September, to about 1,000 in all
Genentech – Hillsboro (4/5, Oregonian)
Opened $400 million manufacturing center
Adding 25 employees in 2010 and maybe 25 more over the next few years
Hi-Tec — http://www.oregonlive.com/business/index.ssf/2010/10/hi-tec_moving_us_headquarters.html
Intel Expansion — http://www.oregonlive.com/business/index.ssf/2010/10/intel_appears_set_to_announce.html
Cabella's to Open First Oregon Store — http://www.oregonlive.com/business/index.ssf/2010/05/cabela