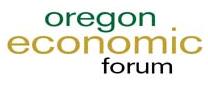 By Tim Duy,
Oregon Economic Forum
sponsor, KeyBank.
The University of Oregon Index of Economic Indicators™ fell 2 percent to 86.4 (1997=100) from a revised June figure of 88.1. Compared to six months ago, the UO Index declined 4.7 percent (annualized), and more than half the components have declined over the past six months. In the past, such declines have foreshadowed a decline in nonfarm payrolls.
Highlights of the report include:
– Initial unemployment claims rose, crossing the 10,000 mark for the first time since January. Claims – already elevated – have risen slowly since March, and while claims remain well below the highs of late 2008 and early 2009, the upward drift is a discouraging indicator of persistent economic weakness.
– Residential building permits (smoothed) fell sharply in July, reverting to the lowest level since September 2009. Housing markets are once again struggling following the burst of activity induced by the now expired home purchase tax credit.
– New orders for nondefense nonaircraft capital goods fell sharply in July, suggesting that the pace of the manufacturing recovery is waning. This can be a volatile indicator, and it is premature to declare that the general upward trend of recent months is over. Still, such a sharp decline bears careful attention, especially if not at least partially reversed next month.
– The interest rate spread between 10-Year Treasury Bonds and the Federal Funds rate dropped sharply for a third month as market participants again reassessed prospects for growth in the second half of 2010, concluding that previous forecasts would prove to be optimistic.
– The UO Index is currently following a pattern similar to that in the wake of the 2001 recession – a temporary improvement followed by renewed weakness, albeit of a lesser degree of the initial decline in nonfarm payrolls. Unless reversed quickly in the next month, recent behavior of the UO Index is consistent with renewed economic weakness again emerging in the next three to six months. If the pattern of the 2001 recession holds, this weakness would be less severe compared to declines registered in 2008 and early 2009.