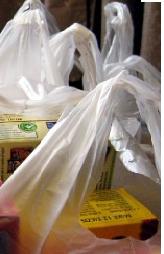 News Note: As Portland is becoming the first Oregon town to push a plastic bag ban, California has been rejecting a ban on the state wide level on the concern of the damage it has for local businesses.

For third straight year, California legislature rejects plastic bag ban
By Mike Verespej
Plastic News
SACRAMENTO, CALIF. – For the third straight year, the effort to ban or tax plastic carryout bags in California has failed. The California Senate late Aug. 31 rejected AB 1998, which would have banned the use of plastic bags starting in 2012 at large grocery stores. The 20-14 no vote was seven votes short of what was needed to pass the measure, which had been approved by the state Assembly in June.
"We're thankful the California legislature looked at it and decided to protect the jobs of workers," said Keith Christman, managing director for plastics markets for the American Chemistry Council, which had argued that the proposed ban threatened 1,000 manufacturing jobs in California.
"Last night definitely was a vote to protect California jobs and against a hidden tax," Christman said in a Sept. 1 phone interview. "It would have cost consumers about $1 billion to replace those plastic bags with paper" — money that he said grocers would have been able to keep if the ban had been enacted.
The proposal would also have created a new and expensive $4 million state bureaucracy, he said.
The failed ban on plastic bags would also have changed how paper bags are used at carryout in California. It would have required retailers to use paper bags with a minimum of 40 percent recycled contact and to charge consumers the store's actual cost of purchasing that bag. It also would have applied to smaller retailers starting in 2013.
"This vote was not against the environment," Christman said. "It helps support the environment by continuing the recycling programs at grocery stores" that were mandated by the state in 2007. "This bill would have ended that."
Bill Carteaux, president and CEO of the Society of the Plastics Industry Inc. in Washington, also called the defeat of the proposed plastic bag ban "a wise decision."
"Given the current condition of California's economy, the nation's economy, and the financial challenges facing the plastics industry, this bill was certainly not the answer," he said. " This legislation was not a workable solution to the state's litter problem and would only divert attention from other critical issue–the state's tremendous budget deficit and a skyrocketing unemployment situation."
Had the ban been enacted, it would have taken away a huge market for carryout bag manufacturers, as California has an estimated population of 38 million — or more than 12 percent of the estimated U.S. population.
In 2009, ACC — which is moving its headquarters from Arlington, Va., to Washington on Sept. 7 — spent nearly $1.4 million to help support and place a city-wide referendum on the ballot in Seattle last August in which voters overturned a planned 20-cent fee on plastic bags in that city that had been scheduled to go into effect on Jan. 1, 2010.
Altogether, 12 communities in the U.S. have plastic bag bans, the largest being San Francisco. The California cities of Fairfax, Palo Alto and Malibu also have plastic bag bans, and Manhattan Beach is appealing a court decision that overturned its planned ban.
The other U.S. communities with plastic bag bans: Westport, Conn., Edmonds, Wash., Brownsville, Tex., Kauai and Maui counties in Hawaii, two small Alaskan towns — Hooper Bay and Bethel, and the North Carolina counties of Hyde, Dare and Currituck on the Outer Banks, which together enacted a single ban.
In addition, Washington, D.C., has a 5-cent charge on disposable plastic and paper bags at carryout.
The bill's sponsor, California Assemblywoman Julia Brownley, D-Santa Monica, expressed her disappointment over the bill's failure in a statement she issued Sept. 1. "This is a sad day for California. It's not a matter of if, but a matter of when consumers bring their own bags and become good stewards of the environment," she said.
Supporters of AB 1998 included numerous environmental groups, Gov. Arnold Schwarzenegger and the California Grocers Association, which denounced the failure of the state Senate to pass the bill.
"This bill would've been good for consumers, good for business and good for the environment and its defeat is a failure for Californians. AB 1998 would have created a statewide standard that would have treated all stores equally," said Ronald Fong, president of the CGA in a statement.
"It's clear that the Senate felt pressure by the American Chemistry Council's hundreds of thousands of dollars in contributions [and the ACC's] misinformation campaign and radio, television, and print ads designed to kill this historic compromise," he said. "The chemical industry used grossly inflated figures and deceptive imagery in their campaign," Fong added. "They threw up a smoke screen that may have worked today, but once the air clears, they will find that Californians will still demand a bag ban — the question is not 'if,' but 'how' and 'when.'"
"Their statement is certainly not productive," said Christman in response to the comments by Fong. "It is not the reality of what happened. The reality is that legislators said this was going to eliminate 1,000 jobs when millions of people are out of work. Clearly, the jobs argument overwhelmed everything else."
Supporters of AB 1998 say that 19 billion bags are used annually in California and that it costs the state $25 million a year to collect and transport to landfills.
In the wake of the bill's defeat, a number of communities in California are expected to proposed bans on plastic bags including Redondo Beach, Santa Monica, Berkeley, San Jose and Los Angeles County.
"We gave this bill our all," said Mark Murray, executive director of Californians Against Waste in a message he sent to CAW supporters. "In the end, incessant plastics industry lobbying made passage of the bill impossible. CAW will be advocating in the coming months to enact plastic bag bans … at the local level."
"Except for California, we haven't seen as many state-wide proposals for bans and taxes as in the past," said Christman. "But we do expect the local level in California to be active" in pursuing bans. "We look forward to working with grocers and legislators around the country on productive solutions. The best way to approach this issue is through recycling in communities. We all want to prevent litter and protect our oceans."
Christman did not indicate that ACC would take a more active role in providing recycling bins or expand its recycling initiatives beyond the beach and highway bin programs it has in California.
But he said ACC would continue education campaigns similar to the ones it has, in partnership with others, in Florida, Philadelphia and King County, Washington, where Seattle is located.
"The perception around plastic bags is the issue we confront," said Christman. "We want to make sure people understand the benefits of plastic bags, the opportunities that exist to recycle plastic bags and film, and the impact that bans and taxes would have on the recycling infrastructure."
"We should be working together to find litter and recycling solutions that don't cost consumers more money and don't put people out of work," Christman wrote in an opinion piece in the Los Angeles Times.