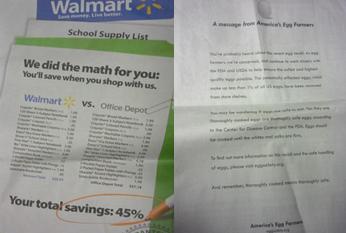 August Oregon Ad Watch
By Oregon Small Business Association,
Two full-page advertisements stood out in the month of August for the state's largest newspaper.
First, Wal-Mart placed a full-page ad going head-to-head with Office Depot by listing 16 school items by price comparison.   The key sell was highlighting the 45% savings and trying to nab the coveted back-to-school market.
Second, in response to the nationwide egg recall the egg farming industry put out a full-page ad.  The key phrase in their simple letter states, "The potential affected eggs, which make up less than 1% of all US eggs, have been removed from store shelves.   You may be wondering if eggs are safe to eat.   Yes they are."
See larger size of ads below.