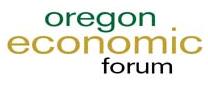 By Tim Duy,
Oregon Economic Forum
sponsor, KeyBank.
The Oregon recovery experienced headwinds in May.  The University of Oregon Index of Economic Indicators™ fell 1.4% to 87.9 (1997=100) from a revised April figure of 89.  Significant deterioration in Oregon employment services payrolls, Oregon residential building permits, and the interest rate spread contributed to the decline.
Highlights of the report include:
•    Labor market indicators were largely unchanged during March. Claims have improved dramatically since last year, but still remain elevated, while steady economic growth since last summer has had limited impact on new hiring.  
•    Labor market components were generally weak in May. Initial unemployment claims rose again, mimicking national data by hovering near a level consistent with weak job growth at best.  Moreover, employment services payrolls – largely temporary hiring – dropped to the lowest level since last December, signaling deterioration in hiring demand.
•    Residential building permits (smoothed) fell to the lowest level since December. Not seasonally adjusted, permits declined in May, a month normally associated with a seasonal increase in permits, to a level below that of the same month last year.  The decline is expected given the expiration of tax credits for homebuyers, a policy which merely pulls demand from future months.
•    New orders for nondefense nonaircraft capital goods rose, rebounding from April's decline.  The upward trend of this indicator typically suggests improving economic conditions and stands out against other, generally softer components of the UO Index.
•    The interest rate spread between 10-Year Treasury Bonds and the Federal Funds dropped dramatically during May as market participants – increasingly concern with the pace of economic growth in the second half of 2010 as well as the European debt crisis – rushed to the safety of government debt.
•    It would be premature to conclude that a "double-dip" recession is imminent on the basis of a single month decline in the UO Index. The decline, however, is consistent with concerns that the pace of recovery would falter in the second half of 2010 after the impetus of inventory correction and fiscal stimulus waned.