By Dr. Eric Fuits,
EconInternational
In 2009, the administration's economists promoted stimulus spending by putting out some bold projections of the impacts of the stimulus on U.S.
Unemployment. For example, the attached chart shows that the administration's economists expected that, by now, the stimulus would have reduced unemployment to 7.3 percent.  Instead, the Bureau of Labor Statistics reports that employment is now 9.5 percent.  While the unemployment rate is lower than last month, this is because so many people have given up looking for work.  Those people are out of the labor force and do not count toward the most widely used unemployment number.

The second chart shows the monthly performance of the S&P 500.  The figures used in the chart include dividends (most stock return charts, such as Google and Yahoo do not account for dividends in their stock index numbers).
The past two months have seen stock market returns  decline by 13 percent.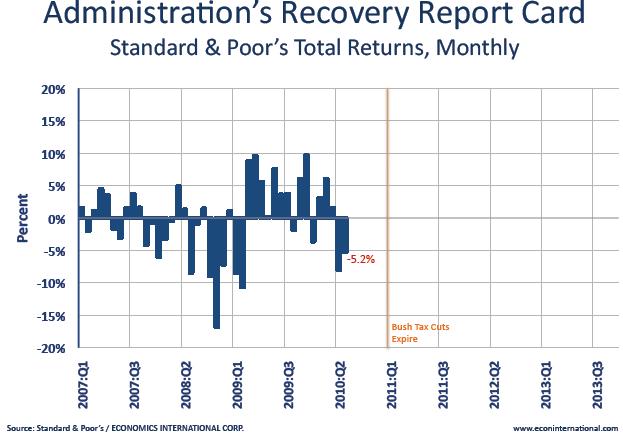 Caution should be exercised in looking at the month-to-month movements of the stock market.  Even so, stock returns are ultimately driven by expectations of future corporate earnings.  It seems we have entered an era of uncertainty that is taking a toll on the stock market.