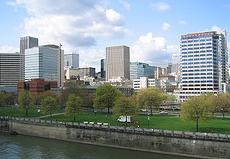 San Francisco Home Values Rise 50%, What About Portland?
By Oregon Small Business Association
In San Francisco, home and condominium sales jumped 50 percent in the first quarter of 2010 from last year. According to a multiple listings analysis by Terradatum, the median price rose 5.4 percent, to $685,000. The Bay Area home values increased 16 percent in March illustrating the biggest jump of any city in the S&P/Case-Shiller Home-Price Index. The 20-city composite measure climbed 2.3 percent. Experts believe San Francisco's unique attributes help keep home prices high and that as the tech sector recovers, buyers will pay top dollar.
Despite Portland's unique attributes, the metro area has not been as fortunate as San Francisco. Although Portland is not a particularly bad market in comparison to the rest of the nation, the city is likely to complete 2010 without too much appreciation or depreciation of home values.
Experts expect the summer season to pick up despite long-term mortgage rates remaining incredibly low. In addition, high unemployment in Oregon continues to depress the housing market. As of now, Oregon's immediate outlook in housing looks bleak, but those looking to buy could still find a good deal as long they view their purchase as a long term investment.
Nationally, experts expected home sales and construction to drop after the expiration of the home buyers' tax credit. In May, the national residential-construction starts fell to their lowest level in a year. The U.S. Commerce Department recently reported that overall housing starts fell 10 percent from April, while building permits were down 5.9 percent. The biggest drops in starts came in the single-family sector and were down 17.2 percent from April.  However, despite the drop, the overall starts and permits were up from a year ago, 7.8 percent and 4.4 percent, respectively.